Viability Assessment Continues at Yucca Mountain
Currently, a Viability Assessment report is being prepared by the Department of Energy (DOE) for release in late 1998. Through a series of tests and studies, DOE is trying to determine if Yucca Mountain is "viable" for a permanent high-level nuclear waste storage facility. According to DOE, the Viability Assessment "will identify the remaining significant technical questions regarding the Yucca Mountain site."
Required by Congress in 1997, the Viability Assessment is a report consisting of four documents describing and assessing the repository's (1) design and construction, (2) operating costs, (3) performance, (4) and license application plan. However, the Viability Assessment is not meant to determine site suitability, but to serve as a tool for making the final decisions about whether or not Yucca Mountain has enough potential as a permanent repository to merit further study and development. When completed, the report will be submitted to the Nuclear Regulatory Commission (NRC) and provided to the President to use as a basis for a 1999 budget request from Congress.
The state of Nevada has expressed concerns about the level of public involvement in the report, given its potential effect on the outcome of the site characterization project at Yucca Mountain. Unlike in the Environmental Impact Statement (EIS), DOE does not plan to seek any public comment or review on the Viability Assessment, even though the report will be used to make decisions about the future of Yucca Mountain.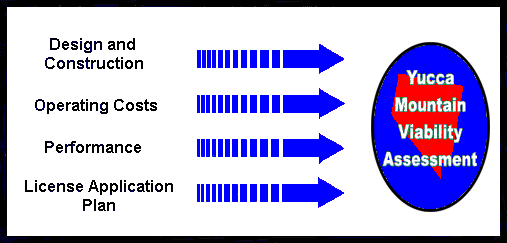 The assessment will also identify technical and scientific areas of the site characterization project that DOE needs to concentrate on to produce a license application for NRC review. The current time table calls for DOE to finish the Viability Assessment by 1998. If the site is then determined viable, DOE will prepare the Yucca Mountain EIS and issue a site recommendation by the year 2001. If Yucca Mountain is subsequently licensed by the NRC as a permanent repository in 2002, construction is projected to begin by 2005 with waste emplacement occurring in 2010.