D. ROUTE FEATURES — Continued
Bridge Deficiencies (Exhibit 3a and Exhibit 6)



he Structural Design Division of NDOT was contacted regarding bridges listed in the NDOT Roadway Preservation Report as being deficient. NDOT rates bridges using a 1-100 "sufficiency rating" that is used to estimate the remaining structural life of each bridge and help prioritize bridge rehabilitation or replacement. NDOT uses the following rating scale and action:
| | |
| --- | --- |
| Bridge Rating | Qualifying Action |

---
While bridges may qualify for an action, the actual time of service or replacement depends on priority and funding. Table IV-a below lists deficient bridges in Eureka County on or near the study road segments.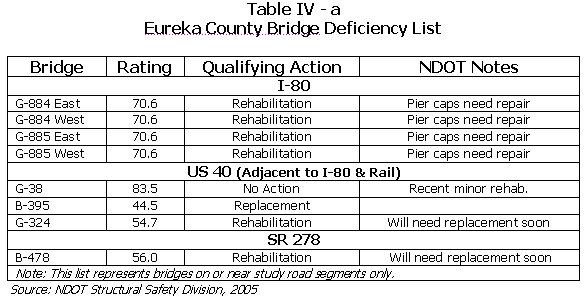 Four bridge structures along I-80 near Dunphy are on the state's "structurally deficient" list (see Figure IV - g below). The Sufficiency Rating of these structures suggests that they can be rehabilitated in order to be brought up to acceptable standards. Three other bridges near Dunphy, not directly on I-80, that are also structurally deficient could disrupt nuclear waste transport by rail or road, or possibly contaminate the Humboldt River, if an incident occurred on these bridges. This area near Dunphy is also a "commodity terminal" used by local mines to transfer chemicals used in the leaching process from rail to truck. These trucks use the three bridges to access mines north of Dunphy.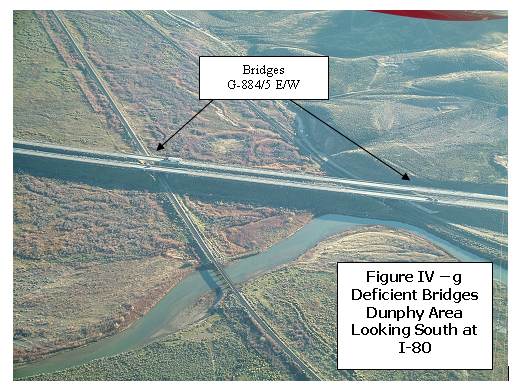 One bridge on SR 278 is on the State's structurally deficient list (B-478). This bridge is within the rehabilitation category, but is expected to soon qualify for complete replacement.

See Exhibit 3a for the locations of deficient bridges.