IV. U.S. HIGHWAY 50, STATE ROUTE 278, AND INTERSTATE HIGHWAY 80
A. INTRODUCTION

According to various sources, Nevada is the "most mountainous state" in the lower 48 states. Nevada is also the driest, currently the fastest-growing, and the most urban state, with more than 80% of the population residing in the metropolitan areas centered in Las Vegas and Reno. Nevada roadways are often built through long valleys and winding mountains, creating high-speed corridors and steep roadway passes. Temperature extremes create constant deterioration to roadway surfaces and other infrastructure. This section provides a review of three major state routes through Eureka County, Nevada, to establish correlation between roadway serviceability and weather, geometrics, accidents and traffic conditions.

Purpose

The purpose of this report is to provide an objective view of the historical and existing condition of major transportation routes through Eureka County which could potentially be used to transport nuclear waste to Yucca Mountain. By establishing historical conditions and events along the study corridors, the County can better prepare for accidents that may involve nuclear transport vehicles.

Process

The study process required a data-gathering effort that took advantage of existing data obtained by federal, state, and local agencies. This included mapping, accident, speed, traffic volumes and other data. Additional data was added through interviews with the appropriate agencies. The objective was to obtain data for the past 10 years and to establish a timeline that depicts events associated with weather, accidents, work zones, flooding, maintenance, construction, etc.; however, many of the data sets obtained were not available for a 10-year period. The data obtained from various sources was used to establish route profiles for each of the study roadways.

Information Sources & Methodology

Since the study roadways are all under the jurisdiction of the Nevada Department of Transportation (NDOT) most of the available data was obtained from NDOT. NDOT maintains extensive accident, traffic, mapping, and other databases made available for this project. Data useful to the project was included on various maps and tables throughout this report. Some data was not available digitally and required interviews with NDOT staff.

The data presented here was assumed to be accurate and the completeness of the information was not confirmed. However, some interview information did not match some databases. Specifically, many NDOT and County staff concur that an accident event occurred, but the corresponding database didn't contain information for that event.

NDOT's Jurisdictional Boundaries NDOT District 3 (Elko) has jurisdiction for the northeast portion of the state, including I-80 through Eureka County and the north half of SR 278. The Ely Sub District (under District 3) manages US 50 through Eureka County and the southern half of SR 278. Both offices were contacted throughout this project process.

B. PROJECT LIMITS The project team established the following roadway limits for this assessment:
I-80 - The study limits on Interstate 80 include the western boundary of Eureka County to the Carlin Interchange of I-80 with SR 278 in Elko County.



US 50 - Study limits for US 50 include the boundaries of Eureka County.



SR 278 - Project study limits for SR 278 is I-80 and US 50. Though portions of SR 278 are in Elko County the interchange of SR 278 with I-80 was included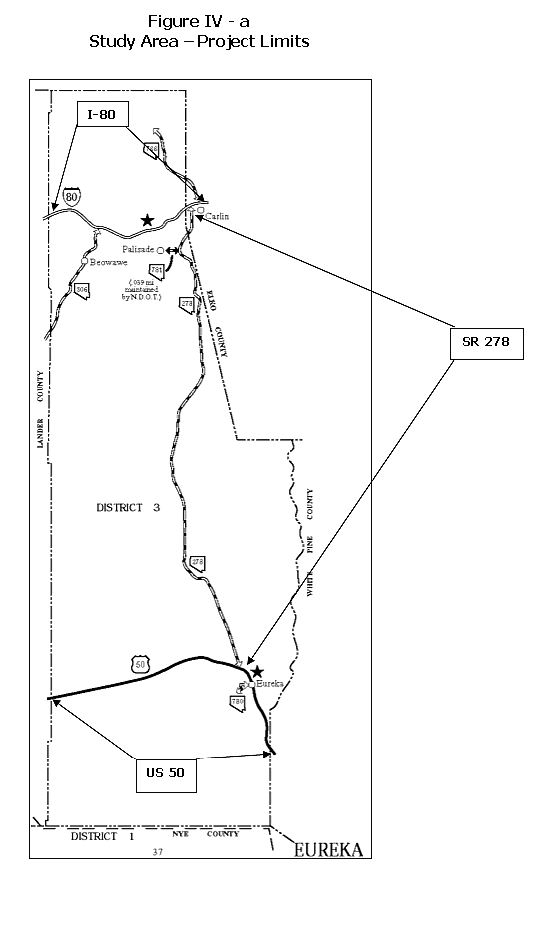 Note: Site specific maps of highways in Eureka County are presented in the Exhibits Sections of this report as well as on the YuccaMountain.org website Atlas Maps of Eureka County.