F. OPERATIONS AND REGULATORY STRUCTURE - Continued
Crew Training

The general qualifications which must be met before a man or woman becomes eligible for the position of locomotive engineer are:
At least 21 years of age.
Minimum education of high school or equivalent.
Good physical condition with excellent hearing and eyesight.
Completion of locomotive engineer training.
Other qualifications to enter into the service of a railroad company for the purpose of becoming a locomotive engineer may apply and often vary between railroads. A new employee usually enters train operating service as a brakeman or conductor, positions in which he or she works and trains for the locomotive engineer's position. On-the-job training and classroom instruction is offered by various railroads; sometimes it is contracted out to education and training companies. If the railroad's training and examinations are passed, the trainee is then a qualified locomotive engineer awaiting promotion.

Also, effective January 1,1992, the Federal Railroad Administration issued extensive certification and licensing requirements for locomotive engineers. Engineers in the U.S. must be certified pursuant to the provisions of Part 240 of Title 49 of the Code of Federal Regulations (49CFR Part 240). Under 49CFR Part 240 each railroad must have in place an FRA-approved certification program. An individual railroad's certification program must meet minimum federal safety requirements for the eligibility, training, testing, certification and monitoring of its locomotive engineers. (BLET, website)

Track and Equipment Operating Tests and Inspection

Union Pacific is required (49 CFR 217.9) to prepare a written program of operating tests and inspections. The railroad must carry out the operational tests and inspections to determine the extent of its compliance with operating rules, timetables, and special instructions. Results of the tests and inspections then must be made available to the FRA. Annual reports on tests and inspections are also required.

Train Defect Detectors

Train defect detectors are installed along the Union Pacific main lines in Nevada. These detectors include hot journal and dragging equipment detectors. Hot journal 1 and dragging equipment detectors transmit a radio announcement to the train crew that the detector is being passed. Once passed, the detector transmits another announcement to the train crew with the observations. If a hot journal is detected, the train is required to stop, and the conductor inspects both sides of the train five cars forward and five cars back of the reported hot journal. The train is then authorized by GCOR to proceed at 5 mph to the next detector. if the hot journal is not detected there, the train can proceed at regular speed. (Steele, pers. com.)

Hazardous Materials

The standards and procedures followed by railroads in transporting hazardous materials are laid out in federal regulations (see below) and in the railroad's operating rules. The Association of American Railroads (AAR), an industry trade group representing the freight railroads of North America, publishes and updates a circular (Circular Number 0T-55-G) that lays out recommended railroad operating practices for the transport of hazardous material; railroads can use these procedures as the basis for their hazardous materials operations. The circular presents a system of operating practices that includes the designation of key trains and key routes for hazardous waste transport; a system for community response and notification; procedures for handling time-sensitive hazardous materials; and criteria for shipper notification.

The latest version of this circular is included in this report as Appendix F. The circular contains a recommended form to be used by railroads in response to community requests for information about the flow of hazardous materials through the community. These requests for information must be made by a Local Emergency Planning Committee (LEPC). 2

According to the Union Pacific website, "Union Pacific Railroad has developed and implemented a security plan in compliance with the Department of Transportation Final Rule 49 CFR Part 172 Hazardous Materials (HM 232): Security Requirements for Offerors and Transporters of Hazardous Materials".

Emergency Response

All railroad employees are required ( 49 CFR 220.13) to "immediately report by the quickest means available derailments, collisions, storms, washouts, fires, obstructions to tracks, and other hazardous conditions which could result in death or injury, damage to property or serious disruption of railroad operations."

Railroad timetables contain procedures for reporting emergencies. Union Pacific also has an overall Emergency Response Plan. In the study area, emergencies would be reported by the train crew via radio to Union Pacific dispatch in Omaha, Nebraska. The dispatcher then calls the nearest emergency response unit. The closest Union Pacific emergency response units to the study area are in Roseville, California, and Salt Lake City, Utah. Response units coordinate with the Nevada State Division of Emergency Management. (Steele, pers com)

Security

With a system that transports critical cargo over thousands of miles of track through all kinds of terrain, security has always been a concern of American railroads. It has taken on added significance since the September, 2001 terrorist attack, when the vulnerability of many of America's transportation systems became clear. Immediately post 9-11, railroads were in a heightened state of alert, increasing track patrols, hiring additional security personnel, and stationing people at key points of vulnerability.

In the longer term, the American Association of Railroads and the FRA have instituted various programs to identify and address security risks. The railroads themselves, however, retain most of the responsibility for security (unlike the aviation industry, where the federal government is now providing a corps of security personnel).

The following quote from Louis J. Wagner, General Director of Chemical Transportation Safety for Union Pacific, taken from a February 2003 article in the Journal of Homeland Security (Dunham, 2003), describes Union Pacific's augmented security program:
"The railroad has engaged a security and intelligence specialist to provide expertise, compared employee records to FBI lists, continued background checks on new employees, and conducted security awareness briefings.

Besides increased security presence and inspections, the Union Pacific has rerouted certain hazmat where appropriate, limited certain hazmat near public events, and increased tracking and awareness of certain hazmat and munitions. The railroad also holds weekly teleconferences of railroad hazmat staff. The railroad also coordinates with the food and chemical industries, works with shippers on supply chain logistics, periodically checks new procedures, and holds daily railroad police teleconferences. Furthermore, railroad personnel have talked to the National Guard for possible support, have increased coordination with military traffic managers, have coordinated security clearances, and have worked with the Department of Defense to procure secure phones.

In other moves to protect its communications and computers, Union Pacific has removed sensitive information from websites; instituted password protection for access to hazmat, military, and spent nuclear fuel shipment tracking and emergency response information; required that passwords be routinely changed; changed all user ID's; and deleted inactive user ID's. The railroad has also implemented encryption technology for selected data communications and has increased physical security and restricted access to communication, computer and dispatching centers."
Waste Shipment on Dedicated Trains

On July 18, 2005, the DOE announced a decision to use dedicated trains to transport SNF and HLW to the proposed Yucca Mountain nuclear waste repository. In the policy statement (attached as Appendix G), DOE cites safety, security, cost, and operational advantages to waste shipments via dedicated trains. Following is a discussion of dedicated trains: how the trains are different from regular service; what a dedicated train carrying nuclear waste would consist of, and the safety, security, and operational differences between dedicated trains and regular service.

General commerce and dedicated trains are two types of rail service available. General commerce trains, also referred to as regular trains, comprise the majority of rail traffic today and travel set routes on one carrier's tracks at a regular schedule (WIEB 1995). General commerce trains represent the majority of rail traffic. Regular trains carry all kinds of goods, including hazardous materials. They stop at rail yards and sidings along the way to add or remove cars. The schedule for a shipment made by regular train is dependent on the carrier's timetable, which may result in shipments being delayed en route waiting for the next train traveling in its direction.

A dedicated train is a train that carries only one commodity from origin to destination, stopping to refuel, to change crews, and, if more than one carrier is required, to change locomotives. Dedicated trains are usually considered to be a subset of regular train service that is characterized by homogeneity of the cargo (WIEB 1995, DOT 1998). Because all the cars in a dedicated train are traveling to the same destination, dedicated trains usually bypass classification yards. Layover times en route are usually minimal which may result in much shorter travel times for the goods being shipped by dedicated train. The typical consist, or makeup, of a dedicated train for spent nuclear fuel includes the locomotives, a 100 ton buffer car, cask cars, another 100 ton buffer car, and a security car for the escort personnel. (Moore, pers. com.)

The DOE decision cites advantages of dedicated train shipments including
Increased safety due to decreased transit time
Avoidance of lengthy "dwell time" in rail yards
Better command and control capabilities, since the shorter dedicated trains allow more effective visual monitoring of cars by train crews
Significant cost savings due to reduced fleet size
Increased operational flexibility and capability due to decreased transit times.
In April 25, 2002 testimony before the House Subcommittee on Highway, Transit, and Railroads, Edward Hamberger, president and CEO of the American Association of Railroads, cited other safety advantages of dedicated shipments. Hamberger describes several safety features that could be used on dedicated trains.

These include electronically controlled pneumatic brakes that reduce the risk of a derailment, and premium car suspensions to reduce lateral and vertical forces that could potentially result in derailment. Hamberger says that mixing the heavier waste cask cars in a general train can cause significant in-train forces as the trains brake, accelerate, and operate on curved or undulating terrain.

These forces could potentially result in derailment. Such forces would not be generated as much in dedicated trains because the trains are shorter, and also the heavy cask cars are not mixed with lighter general freight cars. Hamberger says that decreased switching time is another safety advantage of using the dedicated trains, as "switching increases the handling of cars and the more a car has to be handled, the greater the risk of an accident."

While both DOE and the railroad industry are on record as preferring waste shipments on dedicated trains, both organizations continue to state that rail shipping of hazardous waste, either by general or dedicated trains, is safe. Additionally, DOE appears to "leave the door open" for waste shipments in general trains in the July 2005 policy statement: "DOE shipments have been and will continue to be [italics added] made securely using both DTS and general freight service."

In a letter to DOE in response to the July, 2005 policy statement (attached as Appendix H), Nevada Senators John Ensign and Harry Reid ask the DOE to "explain how the use of general freight service is compatible with the decision to use dedicated trains. Also, please explain the circumstances under which DOE would use general freight service instead of dedicated train service."

The senators also ask for clarification of a number of other issues involving the proposed waste transport in dedicated trains, and conclude, "The policy statement is riddled with gaps and inconsistencies and provides no sound justification or support for its conclusions."

Regulatory Structure

In the following sections, the regulatory structure is described for different activities or functions of the railroad. While several federal agencies and a Nevada State agency have responsibility for carrying out regulatory activities, the Federal Railroad Administration (FRA), an agency of the U.S. Department of Transportation, is the agency chiefly responsible for regulating railroad operations and safety.

To supplement the information presented below, Appendix I, Rail and Highway Regulations Relative to the Transportation of Radioactive Materials and Their Applicability to States, Tribes, Shippers, and Carriers, prepared by DOE's "Transportation External Coordination Working Group, Rail Topic Group," offers a detailed matrix showing which federal regulations pertain to specified aspects of the shipment of radioactive materials. The matrix is comprehensive, covering not only the shipment of hazardous materials, but also more routine operations such as general safety inspection and enforcement, training, operations and emergency response. Prepared in 1998, it is somewhat out of date, but with the citation of relevant sections of the Code of Federal Regulations, it still serves as a useful reference.

General Railroad Operations

As described in the above sections, the FRA is the agency chiefly responsible for regulating and overseeing the operations of railroads. Authority for this regulatory activity is contained in 49 CFR 200-299. As described above, a code of general operating rules for railroads is contained in federal regulations (49 CFR 218). Each railroad's operating rules, current timetables and special instructions must be filed with the FRA.

Safety and Safety Inspections

The FRA is responsible for administering the National Railroad Safety Program. The purpose of the National Railroad Safety Program is to promote safety in all areas of railroad operations. The program is carried out in part through the issuance of mandatory federal safety requirements and through inspection efforts designed to monitor compliance with those requirements. FRA and state inspections determine the extent to which the railroads, shippers, and manufacturers have fulfilled their obligations with respect to inspection, maintenance, training and supervision. The FRA and participating states do not conduct inspections for the railroads, but they do carry out routine inspections, accident investigations, formal and informal educational efforts, complaint investigations, safety assessments, special inquiries, regulatory development, research and similar initiatives. (49 CFR 212.101-212.103)

States participate in railroad safety inspections through agreements with the FRA. Nevada has such an agreement. The Nevada Rail Safety Program is administered by the Safety And Quality Assurance Division of the Nevada Public Utilities Commission. Under the agreement, the FRA trains, certifies and oversees the activities of state safety inspectors. All standards for the program, and for the equipment, operations and materials being inspected, are laid out in 49 CFR 170-185 (hazardous materials) and 49 CFR 200-299 (equipment, track, operating practices).

The State of Nevada has four inspectors for the entire state, three located in Las Vegas and one in Carson City. There is one inspector for each of the four programs covered: motive power and equipment, track, operating practices and hazardous materials. Nevada does not have a signal inspector. The Nevada inspectors submit all inspection reports to the FRA. The FRA also gets violation reports, and if there is a violation, it is the FRA that prosecutes, not the State. (Steele, pers. com.) FRA inspectors also conduct inspections within Nevada. The FRA has an inspection-equipped locomotive, the "T-2000" which is brought to Nevada two to three times per year.

In general, the Motive Power and Equipment (MPE) inspections cover freight cars, locomotives and passenger cars. All parts of rolling stock have tolerance standards; the inspector determines whether the equipment is within the tolerances. These inspections usually are done in switching yards. Track inspectors look at such things as correct curvature of track, changes in curvature, cross slope consistent with design speed, changes in gauge, rail-to-tie fastenings, and the condition of the ballast.

Operating Practices include how the train crews observe the code of operating rules, accident reporting, communication, and working in yards. Operating Practices inspectors may occasionally work covertly, or they may ride along in trains. Finally, in Hazardous Materials inspections, the placarding, securing, labeling, appropriate use of cars, closure of containers, and shipping papers are inspected. Yards and facilities of the shippers and consignees of hazardous materials are also inspected.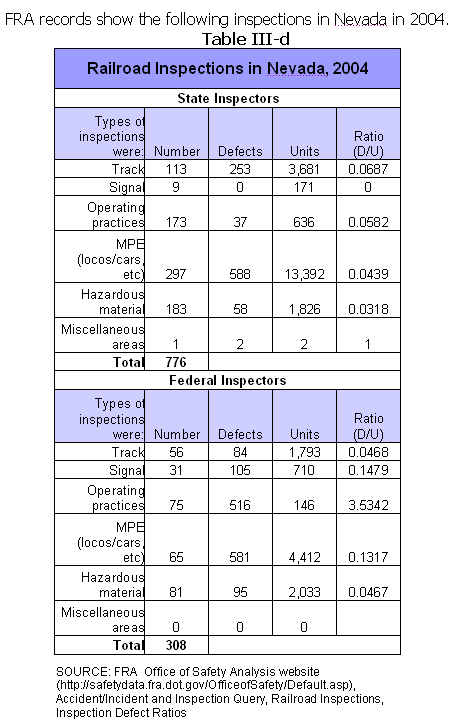 As the table shows, State inspectors conducted over twice as many inspections in Nevada as federal inspectors did in 2004. It is the railroads themselves, however, that conduct the most inspections. Under the CFR sections cited above, railroads are required to have a regular, written schedule of inspections, and to make the schedule and the inspection results available to the FRA. The FRA and State programs, then, can be seen as an oversight program, in which FRA "inspects the inspectors" (Moore, pers. com.). Inspections by FRA and State inspectors are to supplement, oversee, and monitor the railroad's inspections.

Hazardous Materials

Under authority delegated by the Secretary of Transportation, the FRA administers a safety program that oversees the movement of hazardous materials (including dangerous goods), such as petroleum, chemical and nuclear products, throughout the Nation's rail transportation system, including shipments transported to and from international organizations. The FRA's Hazardous Materials Division also has authority to oversee the movement of a package marked to indicate compliance with a Federal or international hazardous materials standard, even if the package does not contain a hazardous material.

Regulations regarding transport of hazardous materials by rail are contained in 49 CRF 174. In general, the requirements of the chapter are as follows:
Railroads must inspect all cars carrying hazardous materials at the location where the material is accepted for shipment.
Railroads must expedite shipments of hazardous materials.
Consignees must expeditiously remove hazardous materials from the carrier's yard or premises.
Hazardous materials must be accompanied by shipping papers.
Train crews must have a document showing the position in the train of cars carrying hazardous materials.
Leaking packages may not be shipped until they are repaired.
Packages carrying hazardous materials must be located so they do not slide or fall.
Cars and/or packages containing hazardous materials must be marked and placarded.
Hazardous materials shipping regulations also govern loading and unloading, car cleaning, train speed, placement of cars, incidents involving leakage, special handling requirements for radioactive materials, and more.

Emergency Response

Nevada's State Emergency Response Commission (SERC) was established in 1986 to comply with the Federal Emergency Planning and Community Right-to-Know Act (EPCRA). The mission of the SERC is to "protect the citizens of the State of Nevada against the negative effects of hazardous materials." The main functions of the SERC include: coordination and supervision of the activities of the Local Emergency Planning Committees (LEPCs); ensure each LEPC has an approved Hazardous Materials Emergency Response Plan; collection of chemical inventory reports; providing grant funding through grants, and processing requests for public information. (SERC website http://www.serc.nv.gov/)

Eureka County has a LEPC. The county has planned for, but does not yet have the capability for a hazardous materials emergency response program, including the capability of responding to transportation accidents involving HLW or SNCF (Moore, 2003).

On the federal level, The National Oil and Hazardous Substances Pollution Contingency Plan (NCP) is the federal government's blueprint for responding to both oil spills and hazardous substance releases. Under this system, hazardous spills are reported to a National Response Center (NRC) which is staffed 24 hours a day by the U.S. Coast Guard.

The NRC evaluates all reports and notifies the appropriate agency. Within certain parameters established by law (49 CFR 171), all hazardous waste incidents must be reported. For the Federal Railroad Administration, the NRC maintains the 24-hour Rail Emergency Hotline (1-800-424-0201). The purpose of this hotline is to take reports of railroad incidents involving hazardous materials, grade crossing fatalities, accidents resulting in injury or death of railroad employees, and the refusal of railroad employees to submit to required toxicological testing.

The EPA (land) or the Coast Guard (water) designate "Federal On-site Coordinators" for hazardous release incidents. These officials coordinate all federal containment, removal, disposal efforts, and resources. (EPA website, 2005.)

Accident/Incident Reporting

As described in section III B of this report, rail carriers must file a report with the Secretary of Transportation (FRA), not later than 30 days after the end of each month in which an accident or incident occurs, that states the nature, cause, and circumstances of the reported accident or incident. The format for the reports is provided by the FRA. The current criteria for a reportable accident or incident are:
Impact between railroad on-track equipment and a motorized or non-motorized highway or farm vehicle, a pedestrian, or other highway user at a highway-rail crossing.



Collision, derailment, fire, explosion, act of God, or other event involving the operation of standing or moving on-track equipment results in aggregate damage (to on-track equipment, signals, track and/or other track structures and/or roadbed) of more than $6,300 (as of 1998).



An event arising from railroad operation results in the death of one or more persons, injury to one or more persons, other than railroad employees, requiring medical treatment, injury to one or more employees requiring medical treatment or resulting in restriction of work or motion for one or more days, one or more lost work days, transfer to another job, termination of employment, or loss of consciousness, and/or any occupational illness of a railroad employee diagnosed by a physician.
FRA also requires the submittal of a monthly status report, even if there were no reportable events during the month. All accidents and incidents must be reported on the FRA standardized form, but certain types of incidents require immediate telephone notification. Logs of both reportable injuries and on-track incidents must be maintained by each railroad on which they occur, and a listing of such events must be posted and made available to employees and to the FRA, along with required records and reports, on request.

The data entries extracted from the FRA reporting forms are consolidated into an accident/ incident database which separates reportable accidents, grade-crossing incidents, and casualties. This database is available online (See Appendix A: References) The statistics also are annually published as a Accident/Incident Bulletin.

Rail Rate Structure, Mergers

Rail rates and rail mergers are subject to the regulatory oversight of the Surface Transportation Board. The Surface Transportation Board (STB) was created in the Interstate Commerce Commission Termination Act of 1995 and is the successor agency to the Interstate Commerce Commission. The STB is an economic regulatory agency that Congress charged with the fundamental missions of resolving railroad rate and service disputes and reviewing proposed railroad mergers. The STB is decisionally independent, although it is administratively affiliated with the Department of Transportation.
---
1 A journal bearing is a combination of rollers and braces or a block of metal, usually brass or bronze, in contact with the end of the axle and on which the load rests. A journal is the part of an axle or shaft on which the journal bearing rests.
---
2 An LEPC is a committee appointed by the State Emergency Response Commission, which develops comprehensive emergency plans for Local Emergency Planning Districts. Every county in Nevada, including Eureka County, has an LEPC.