January

January 31, 2007 — Nevada leaders plot strategy to fight Yucca — WASHINGTON — Funding for Yucca Mountain in 2007 would be $50 million less than in 2006 under legislation passed Wednesday by the House of Representatives. The development came as the five members of Nevada's congressional delegation met in Democratic Majority Leader Harry Reid's office to discuss plans for the upcoming legislative session, including keeping the nuclear waste dump project in check. — AP

January 31, 2007 — Agencies to spend $25 million retracing key Yucca research —WASHINGTON -- Federal agencies plan to spend more than $25 million to retrace key Yucca Mountain research that became tainted after the discovery of scientist e-mails suggesting documents may have been falsified, according to a report made public Tuesday — By STEVE TETREAULT STEPHENS WASHINGTON BUREAU

January 31, 2007 — PFS files suit seeking to store nuclear waste — By Suzanne Struglinski Deseret Morning News

January 26, 2007 — Reid: Nuclear Energy Institute 'backing off' —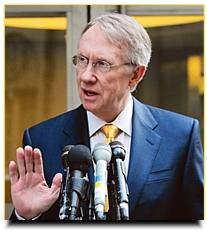 U.S. Senator Harry Reid, D-NV, on Wednesday held a press conference call with area reporters and after joking easily for a few minutes with the press, talked mainly about the issue of nuclear waste and his reaction to President George Bush's State of the Union address — Reno Gazette Journal

January 26, 2007 — Official: Yucca Mountain rail to have little effect nationally — Las Vegas Review Journal

January 25, 2007 — Radioactive waste chief defends Yucca — He counters NRC member's assertion that project should be scrapped — The nation's radioactive waste chief on Wednesday countered remarks made earlier this week by veteran Nuclear Regulatory Commission member Ed McGaffigan, who told reporters the Yucca Mountain project in Nevada is deeply flawed and should be scrapped — Las Vegas Review Journal

January 25, 2007 — Reid to submit candidates for nuclear panel — Stephens Washington Bureau

January 24, 2007 — Nuke industry mindful of Reid — Association won't push bills to speed work on waste repository — — Las Vegas Sun, Washington Bureau





January 22, 2007 — [NRC Commissioner] McGaffigan urges new [Yucca] n-waste plan — Inside Energy (More Coverage - Las Vegas Review Journal)


January 18, 2007 — DOE official upbeat on Yucca Mountain — WASHINGTON -- Plans to begin storing nuclear waste at Yucca Mountain by March 2017 should be able to proceed without legislation from Congress, a key Energy Department official said Wednesday — By Tony Batt Stephens Washington Bureau

January 12, 2007 — Land set aside for Yucca rail study — The government has set aside a 130-mile stretch of land through central Nevada so that the Energy Department can study whether it wants to use it to build a rail line to the proposed Yucca Mountain nuclear waste repository, officials said — AP

January 08, 2006— U.S. Moves to Become Global Nuclear Fuel Supplier — The Bush administration is pressing forward with plans to recycle spent nuclear fuel in the United States and supply nuclear fuel to other countries that refrain from building nuclear enrichment or recycling facilities to make their own nuclear fuel. The U.S. Department of Energy, DOE, announced Thursday that it intends to prepare a Programmatic Environmental Impact Statement for the Global Nuclear Energy Partnership Initiative, GNEP, promoted by President George W. Bush. — ENS

January 2007 — COMMENTARY: Nuclear Waste: A Mountain of Questions . . . There are two main reasons why the Yucca Mountain project has languished since 1987: Lack of a coherent and comprehensive transportation plan, and potential impacts to regional groundwater resources — By Matt Gaffney, Emagazine.com

---
February

February 27, 2007 — Berkley working against Yucca plan — AP

February 21, 2007 — Nuke waste could travel through Sparks, Reno — Sparks Tribune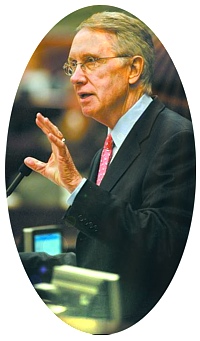 February 21, 2007 — Reid says Yucca is dead — Sen. Harry Reid, D-Nev., told a joint session of Nevada's Senate and Assembly on Tuesday the Yucca Mountain project is dead. "After 25 years, folks, it's history," he said. "They can keep spending money there. Nothing's going to happen." – Nevada Appeal

February 16, 2007 — Ex-director: Yucca project in jeopardy — Flagging 'political will' threatens repository, he says, but it remains best solution — Las Vegas Review Journal

February 16, 2007 — YUCCA MOUNTAIN PROJECT: Berkley urges DOE to cancel firm's contract — Company denies conflict of interest — WASHINGTON -- Rep. Shelley Berkley, D-Nev., is calling for the Energy Department to withdraw a $450,000 Yucca Mountain contract given to a consulting company whose board contains several former executives of the nuclear waste project — By STEVE TETREAULT STEPHENS WASHINGTON BUREAU

February 13, 2007 — Old Yucca firm joins new review — Nuclear waste dump foes say 'rubber stamp' effort waste of taxpayer dollars — WASHINGTON - To conduct an independent review of the troubled nuclear waste dump, the Energy Department has hired a firm whose staff and board include past Yucca Mountain officials — By Lisa Mascaro Las Vegas Sun (Related Information)

February 13, 2007 — Reid statement on "Independent" Review of Yucca Mountain — Press Release of Senator Reid

February 08, 2007 — Report to show Yucca plan too costly — Nevada raising questions about repository — Las Vegas Review Journal

February 07, 2007 — Nuclear official's stark farewell: Scrap Yucca: Member of regulatory panel says it 'may be time to stop digging' — WASHINGTON - The longest serving member of the Nuclear Regulatory Commission is stepping down, and, on his way out, saying something about Yucca Mountain that few in government dare to suggest out loud: "It may be time to stop digging." — By Lisa Mascaro Las Vegas Sun

February 06, 2007 — Nevada lawmakers urged to fund anti-nuclear dump agency — CARSON CITY, Nev. The director of Nevada's nuclear watchdog agency told lawmakers Tuesday that a proposed nuclear waste dump at Yucca Mountain may be "on life support," but his agency still needs a budget increase to oppose the federal government's final push for dump licensing in 2008 — AP



February 06, 2007 — DOE requests reduced Yucca Mountain budget — WASHINGTON -- The Department of Energy scaled back its planned Yucca Mountain spending in a 2008 budget it announced Monday, delaying railroad designs and deferring advanced research while focusing on forming a license application for the nuclear waste site — By STEVE TETREAULT STEPHENS WASHINGTON BUREAU

February 05, 2007 — Bush budget gives boost to Yucca funding — AP

Febryary 01, 2007 — Yucca manager defends expense to restore project — Porter calls $25 million price tag 'throwing good money after bad' — WASHINGTON -- The top Yucca Mountain manager on Wednesday defended the Energy Department's spending of more than $25 million to restore the project in the wake of scientists' e-mails that raised questions about research quality at the nuclear waste site — By STEVE TETREAULT STEPHENS WASHINGTON BUREAU
---
March

March 30, 2007 — County OKs Yucca Mtn. study pact — Pahrump Valley Times

March 28, 2007 — NUCLEAR WASTE: Report blames Yucca managers — E-mails suggested scientists falsified data — A final Department of Energy report issued Tuesday blamed top Yucca Mountain managers for the scandal in which several scientists appeared to suggest in e-mails that they were making up data and falsifying documents — By STEVE TETREAULT STEPHENS WASHINGTON BUREAU WASHINGTON

March 27, 2007 — WASHINGTON — Report blames management failures for Yucca Mountain e-mail controversy — Evidence of paperwork fraud by scientists working on the Yucca Mountain nuclear waste dump in Nevada was the fault of senior managers who failed to hold subordinates accountable, according to a final report by the Energy Department — AP

March 25, 2007 — Delegate goes stealthy with Yucca Mountain — WASHINGTON - Last week was not one for bipartisanship among Nevada's congressional delegation. Fresh off winning passage of his bill on Monday to help Lake Mead fight the invasive quagga mussel, Republican Rep. Jon Porter set his sights on a bigger prize: Stopping Yucca Mountain — Las Vegas Sun

March 23, 2007 — Editorial: Beware: Yucca not dead — The lifeblood of this nuclear waste burial plan, federal money, is still flowing — Las Vegas Sun

March 18, 2007 — Turning out the lights on Yucca Mountain — Project may be dead, but how will we know? — WASHINGTON - One mile deep into Yucca Mountain, lights are being turned off. The train that carries visitors into the cavernous hole in the mountain will run no more. Layoffs are possible — Las Vegas Sun

March 17, 2007 — Yucca cost projections outlined — WASHINGTON -- Over the next 16 years, the cost of building and operating a nuclear waste repository at Yucca Mountain will be almost $27 billion, the project's director said Friday. Ward Sproat, director of the Office of Civilian Radioactive Waste Management, said it would cost $18.5 billion to open the repository by 2017 and finish transportation routes to the facility — By TONY BATT STEPHENS WASHINGTON BUREAU

March 16, 2007 — DOE submits spending plan to Congress . . . The Office of Civilian Radioactive Waste Management will spend $445.5 million in FY '07 and will perform the critical path activities needed to produce a high quality Yucca Mountain license application for submittal to the NRC no later than June 30, 2008 — UPI

March 16, 2007 — Feds: $26.9 Billion for Yucca Mountain — WASHINGTON - It will cost $26.9 billion to build and operate the Yucca Mountain nuclear waste dump through 2023, the Energy Department said Friday in a new cost calculation. The department did not release a new figure for the total life-cycle cost of the Nevada project, estimated several years ago at $58 billion — AP

March 16, 2007 — Geologists slamm Yucca models — How bad is the modeling that supports the Department of Energy's assertions about the safety and permanency of the Yucca Mountain nuclear waste dump? Execrable — Ken Maize's POWERblog

March 15, 2007 — QUALITY ASSURANCE: Yucca e-mails explained — Geological Survey hydrologists created perception problem, panel told — BERKELEY, Calif. -- Federal hydrologists who wrote e-mails about short-cutting quality assurance of their work on water moving through the Yucca Mountain nuclear waste site created more of a perception problem than a scientific failure, the head of a presidential oversight board said Wednesday — Las Vegas Review Journal

March 9, 2007 — Analysis: Yucca work reviewed, redone
— The director of the Yucca Mountain Project says he's making the controversial quality assurance culture of the proposed nuclear waste repository in Nevada a priority . . . UPI

March 7, 2007 — U.S. to Owe Billions for Delays in Nuclear Dump, Official Says

— New York Times (Related Information

)

March 7, 2007 — Nev. senators introduce No Yucca bill

— Nevada's two U.S. senators have introduced legislation keeping nuclear waste where it is produced, a bill that could stop the Yucca Mountain Project — UPI

March 07, 2006 — Measure would speed licensing — Nevadans counter Yucca Mountain bill — STEPHENS WASHINGTON BUREAU

March 06, 2007 — Energy Department makes legislative push for Yucca nuclear dump — AP

March 06, 2007 — YUCCA MOUNTAIN: Agency to release records — Las Vegas Review Journal

March 03, 2007 — McCain tells Utahns he backs nuclear storage — Desertnews.com

March 02, 2007 — YUCCA RAIL, Rurals concerned about Mina route
— Pahrump Valley Times

March 01, 2007 — YUCCA MOUNTAIN: Nuclear waste dump still alive — Panel hears warning about rail shipping routes — CARSON CITY -- A Nevada panel fighting a proposed Yucca Mountain repository for nuclear waste was told Wednesday that project backers face big obstacles but are still seeking approval of the facility and of rail shipping routes, including one through downtown Reno and Sparks — AP
Related Information — Review of Proposed Mina/Schurz Rail Route – Impacts on Northern Nevada Communities [26 Page

] — By Bob Halstead, Transportation Advisor, Nevada Agency for Nuclear Projects
---
April

April 28, 2007 — NUCLEAR ENERGY INSTITUTE: Delays fan frustration with Yucca WASHINGTON -- The nuclear industry's frustration with Yucca Mountain delays is at an "all-time peak," but a senior executive said there is no consensus as to whether the Energy Department program should be overhauled — Stephens Washington Bureau

April 28, 2007 — NUCLEAR ENERGY INSTITUTE: Delays fan frustration with Yucca WASHINGTON -- The nuclear industry's frustration with Yucca Mountain delays is at an "all-time peak," but a senior executive said there is no consensus as to whether the Energy Department program should be overhauled — Stephens Washington Bureau

April 22, 2007 — Cities welcome tribe voices opposing Yucca transit plan Editorial — Reno Gazette Journal

April 20, 2007 — State official refutes Yucca Mountain claims &mdash ;Lahonton Valley News

April 19, 2007 — Nevada official calls for NRC to address "critical safety issue" related to nuclear waste dump proposed for Yucca Mountain

— State of Nevada



April 18, 2007 — Walker River tribe pulls permission for Yucca Mountain rail line

—AP (More Coverage — Las Vegas Review Journal)

April 17, 2007 — Sparks asked to fight transporting — Loux wants Paiute Tribe to rescind access — SPARKS -- Transporting nuclear waste by rail to Yucca Mountain through Reno and Sparks could hurt tourism even without an accident occurring, the Sparks City Council was told Monday. — AP

April 12, 2007 — Proposed Nuclear Waste Site Could Be Toxic Issue for Some Candidates — Washington Post

April 11, 2007 — YUCCA MOUNTAIN: Computer model criticized — It's too complex to be inspected, state official says — STEPHENS WASHINGTON BUREAU

April 10, 2007 — Nevada Official Calls for Investigation into DOE Computer Problems Blocking Access to Yucca Mountain Information — Business Wire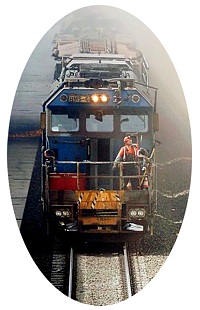 April 09, 2007 — Nuclear power enters global warming debate

— LA Times

April 06, 2007 — Yucca project procurement office altered--Changes take place after protest lodged against award of contract — Las Vegas Review Journal

April 05, 2007 — Nuclear Power Making California Comeback? — News10abc

April 01, 2007 — Nuclear waste on our rails — Trains carrying up to 4,500 casks of high-level nuclear waste could roll through downtown Reno and Sparks every week for 24 years under the latest strategy by the U.S. Department of Energy to build a railroad line to Yucca Mountain, according to Nevada officials — Reno Gazette Journal (Related Story)

---
May
May 29, 2007 — China Embraces Nuclear Future — Free Internet Press

May 25, 2007 — Yucca financing taking shape — Congressional committees begin process of setting 2008 budget levels — Stephens Washington Bureau

May 24, 2007 — Reconnecting to the Caliente Rail Route — Implications for the Las Vegas Valley, Presentation to Nevada Commission on Nuclear Projects, Las Vegas, Nevada, May 23, 2007 - Bob Halstead, Fred Dilger, PhD

May 23, 2007 — Nuke waste routes discussed — Las Vegas Review Journal

May 10, 2007 — State of Nevada Comment — EPA's proposed rule on radiation standards for the Yucca Mountain repository (pdf-121K)

May 08, 2007 — YUCCA MOUNTAIN RAIL LINE: Reid steps in, sways tribe — Senator uses his clout to persuade Paiutes to refuse DOE's rail plan — Las Vegas Review Journal

May 07, 2007 — NEVADA'S LITMUS TEST: Scrutiny increases on Yucca — Las Vegas Review Journal

May 01, 2007 — State of Nevada Comments &mdash ;DOE Notice of Intent to Prepare a Programmatic Environmental Impact Statement (PEIS) for the Global Nuclear Energy Partnership (GNEP) — State of Nevada

May 01, 2007 — Former aide to Idaho senator to be nominated to NRC post — Las Vegas Review Journal
---
June

June 30, 2007 — Yucca Mountain team may have to stop using state water — The Department of Energy continues to use the state's water for drilling at the planned Yucca Mountain nuclear waste site while State Engineer Tracy Taylor contemplates resuming his order to halt the practice, a federal spokesman said Friday — Las Vegas Review Journal

June 27, 2007 — YUCCA MOUNTAIN: Senate panel slashes nuclear repository's 2008 budget by $50 million WASHINGTON -- A Senate subcommittee voted Tuesday to cut $50 million from Yucca Mountain spending in 2008, but its chairman said the Department of Energy still should be able to meet the project's goals for the coming year — Stephens Washington Bureau

June 25, 2007 — Nuclear power expansion stalled

[Calif.] — AP

June 21, 2007 — Attempt at Yucca budget cut fails WASHINGTON -- Despite criticism over the past five years aimed at exposing perceived flaws at Yucca Mountain and shortcomings in its management, a vote on Wednesday showed Nevada lawmakers still have a way to go to persuade Congress to abandon nuclear waste burial in the state — Las Vegas Sun, Washington Bureau

June, 21, 2007 — House pans Yucca Internet strategy — Amendment calls for youth-oriented character to disappear — Las Vegas Sun, Washington Bureau

June 20, 2007 — Surface storage outlined, 'Aging pads' planned for Yucca repository — WASHINGTON -- Nuclear waste would accumulate on the surface of Yucca Mountain at a rate of 800 to 1,200 tons annually, with more arriving at the site each year than can be moved right away into the mountainside repository, government models show — Las Vegas Sun, Washington Bureau

June 19, 2007 — DOE releases design requirements for nuclear transport canisters —WASHINGTON - The Energy Department announced design requirements Tuesday for canisters to transport radioactive waste to Nevada and store it in the planned Yucca Mountain national nuclear dump — AP

June 16, 2007 — Experts doubt new schedule for carving Yucca Mountain — Fuel can stay secured safely above ground in the meantime, group says — WASHINGTON -- Although nuclear waste ultimately should be stored deep underground, there is little confidence the Energy Department will meet its new schedules for carving a nuclear waste repository at Yucca Mountain in Nevada, according to experts assembled by a science and environment think tank. — Stephens Washington Bureau

June 14, 2007 — Water use faces challenge — Federal agency drilling at Yucca Mountain — The Department of Energy is using the state's water to drill bore holes at the proposed Yucca Mountain nuclear waste site, a use the state engineer's office calls "unacceptable" and a state oversight agency calls "stealing" — Las Vegas Review Journal

June 12, 2007 — NRC sees "nuclear renaissance" in coming years Energy companies plan to file permit requests in the next two years to build 27 new nuclear reactors in the United States, according to a U.S. regulator who said Tuesday his agency expects a "nuclear renaissance" — Reuters

June 03, 2007 — WEEK IN REVIEW: WASHINGTON, D.C. — Yucca dump on back burner — Las Vegas Sun
---
July

July 31, 2007 — The trouble with nuclear waste — It's not easy building a home for spent radioactive material. The proposed site at Yucca Mountain has been underway for over 30 years — Fortune

July 31, 2007 — NEVADA COMMISSION ON NUCLEAR PROJECTS: — Brager appointed to board Gov. Jim Gibbons had quietly made another appointment to the Nevada Commission on Nuclear Projects, but unlike his last one, the choice that surfaced Monday isn't likely to cause an uproar among opponents of the nuclear waste repository planned for Yucca Mountain — Las Vegas Review Journal

July 30, 2007 — Waste site work continues — Federal agency ignores state ban on water use — Is it science? Or is it defiance? It's both, say federal and state officials embroiled in a court battle over using Nevada's water for drilling operations at the planned Yucca Mountain nuclear waste site — Las Vegas Review Journal

July 30, 2007 — YUCCA MOUNTAIN: Stalemate takes spotlight — Clinton forces Democratic foes to take stand on dump — Hillary Clinton came out strong on the issue of Yucca Mountain recently. And in doing so, she one-upped the rest of the Democratic field in Nevada.

July 28, 2007 — Survey shows most Americans oppose Yucca Mountain

— A national survey by the Massachusetts Institute of Technology shows only one in five Americans believes Yucca Mountain should be used to store nuclear waste — Geoff dornan - Nevada Appeal Capitol Bureau

July 26, 2007 — Government challenges order halting water use at Yucca site — The other shoe dropped Wednesday in the squabble between the federal government and Nevada over using the state's water for drill rigs at the planned Yucca Mountain nuclear waste site. Justice Department attorneys on behalf of the Department of Energy filed an emergency motion in U.S. District Court in Las Vegas seeking to block State Engineer Tracy Taylor's June 1 cease-and-desist order, which was reinstated Friday — Las Vegas Review Journal

July 26, 2007 — Gibbons' stance on Yucca perplexing — Lawmakers say caving on water issues is not good — WASHINGTON -- Consensus eluded Nevada lawmakers Thursday on how or whether to respond to unorthodox Yucca Mountain strategy moves that Gov. Jim Gibbons has taken this month. For the most part, the state's five members of Congress try to stay on the same page as elected state leaders in Carson City when it comes to the proposed nuclear waste repository — Stephens Washington Bureau

July 26, 2007 — Republican senator challenges Clinton's opposition to Yucca — Stephens Washington Bureau

July 25, 2007 — State officials renew charge against DOE — WASHINGTON -- Nevada officials have renewed a charge that the Department of Energy plans to withhold key Yucca Mountain documents from the state's scrutiny. Lawyers for the state filed a complaint Monday at the Nuclear Regulatory Commission — Las Vegas Review Journal Read the State's complaint



July 24, 2007 — Railroad cost estimates for Yucca top $3 billion — The cost of building a government railroad across rural Nevada to carry nuclear waste to Yucca Mountain has grown beyond $3 billion and is climbing with groundbreaking still several years away, according to new estimates — Stephens Washington Bureau

July 24, 2007 — Hauling plans sought - DOE seeks proposals to ship nuclear waste — The Department of Energy played a card in its strategy to haul highly radioactive waste across the nation to Yucca Mountain with a Federal Register notice Monday seeking comments on public safety training and planning grants for states and American Indian tribes — Las Vegas Review Journal

July 22, 2007 — Yucca water dispute brews — Feds reject Nevada's demand to stop use for drilling work —The federal government on Friday rejected a demand by the state engineer to stop using Nevada's water for drilling operations at the planned Yucca Mountain nuclear waste site, setting the stage for a showdown in court next week — Las Vegas Review Journal

July 22, 2007 — [Editorial] Mixed messages, ambivalence on Yucca policy not acceptable — RGJ.COM

July 22, 2007 — Clinton urges alternatives to nuke dump — AP

July 19, 2007 — State officials not content with Yucca plan — Gov. Jim Gibbons' decision to allow the federal government to temporarily continue using state water for ground studies at the Yucca Mountain nuclear waste dump site is at odds with the state's past strategy for fighting the project, a top state official said Wednesday — Reno Gazette Journal (More Covergage - Las Vegas Sun)

July 18, 2007 — Appointee resigns from Nevada nuclear dump panel — CARSON CITY, Nev. -- Gov. Jim Gibbons' new appointee to a Nevada panel that has fought for years against federal plans for a nuclear waste dump at Yucca Mountain abruptly resigned Wednesday, following reports of pro-dump comments she had made over the years — AP ( 07/19/07 More Coverage)

July 18, 2007 — Gibbons lets Yucca Mountain project use state's water for another month — A decision by the state engineer, with the backing of Gov. Jim Gibbons, to let the U.S. Department of Energy use the state's water for another month to explore the planned Yucca Mountain nuclear waste site amounts to surrendering in Nevada's decades-long fight against the project, Sen. Harry Reid said Tuesday — Las Vegas Review Journal

July 06, 2007 — Nye County envisions Gateway entry to Yucca — Pahrump Valley Times


---
August
August 24, 2007 — Nevada remains opposed to conceding Yucca water — LRJ.com

August 23, 2007 — Nevada's Powerful Leaders Strategize to Stop Yucca Mountain Project — LasVegasNow.com

August 20, 2007 —France Moves Ahead With Nuclear Waste Project
— NPR

August 18, 2007 — State officials unsure of Yucca discussions — Judge urged compromise with Energy Department — Nevada officials battling the Yucca Mountain project are taking a wait-and-see approach to U.S. District Judge Roger Hunt's urging this week that federal lawyers try to work out a compromise with them over using the state's water to drill bore holes at the planned nuclear waste site — Las Vegas Review Journal

August 18, 2007 — White House, Reid agree to deal on NRC nominees — Stephens Washington Bureau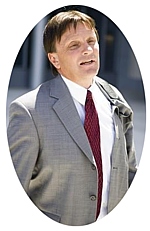 August 16, 2007 — Judge questions sudden rush on Yucca drilling — District Judge Roger Hunt pressed a Justice Department attorney Wednesday to explain why the Department of Energy after 20 years is suddenly rushing to drill bore holes to collect rock samples at the planned Yucca Mountain nuclear waste site — Las Vegas Review Journal

August 14, 2007 — Federal lawyers defend water use - Filing contradicts Nevada in Yucca Mountain case — Contrary to Nevada's stance that the Department of Energy violated a court-approved agreement by using the state's water to drill bore holes at the Yucca Mountain nuclear waste site, Justice Department attorneys contend in court papers Monday that DOE did nothing wrong — Las Vegas Review Journal

August 10, 2007 — Nevada gets support from 13 public interest groups in battle against DOE's Yucca Mountain Project — CARSON CITY – Nevada officials said today that 13 local, regional and national public interest organizations have filed statements with the U.S. Nuclear Regulatory Commission supporting a motion submitted by the state of Nevada calling for the public release of all of the U.S. Department of Energy's key documents related to its Yucca Mountain Project — State of Nevada

August 10, 2007 — Documents about Yucca in tug of war — Licensing Support Network at issue — Stephens Washington Bureau

Augus 04, 2007 — Roberts joins state nuclear panel — Nye County superintendent of schools: Transporting waste to Yucca too risky — Las Vegas Review Journal

August 04, 2007 — Porter receives Yucca report — DOE has made progress, but some questions remain, GAO says — WASHINGTON -- The Department of Energy is repairing chronic management and quality assurance problems at Yucca Mountain, but given the project's troubled history, it is unclear whether the fixes will stick, according to a report to Congress released Friday — Stephens Washington Bureau

August 01, 2007 — State files court papers to halt Yucca Mountain water use — Federal officials overseeing the Yucca Mountain nuclear waste project put themselves in a "legal no man's land" when they used Nevada's water to drill bore holes without permission and shouldn't be allowed to continue, state attorneys said in court papers filed Tuesday — Las Vegas Review Journal

August 01, 2007 — DOE evaluating media consultants — WASHINGTON -- The Department of Energy is seeking to develop new media and public outreach strategies for when it unveils a long-delayed license application to build a nuclear waste repository in Nevada — Las Vegas Review Journal
---
September

September 26, 2007 — Yucca review board in dark — Project design changes revealed only: New evidence of the location of the Bow Ridge earthquake fault line prompted designers of the Yucca Mountain nuclear waste project to change where they had planned to build concrete pads for cooling thousands of tons of highly radioactive spent fuel — Las Vegas Review Journal

September 24, 2007 — Yucca fault line might spring surprise — Letter, maps suggest it's not where scientists had thought it was — Las Vegas Review Journal

Sepember 21, 2007 — Judge refuses to stop Yucca water use — Energy Department can finish Phase 1 drilling — Las Vegas Review Journal

September 13, 2007 — Officials suspect 'bait and switch' on Yucca — Skepticism surrounds DOE license application process — Stephens Washington Bureau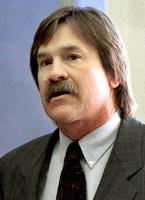 "We're going to file an emergency request with the court to compel them to stop," said Bob Loux, Nevada Agency for Nuclear Projects chief. "We think they're thumbing their nose at the court."
September 11, 2007 — YUCCA MOUNTAIN: State presses DOE on use of water — Nevada attorneys filed a pair of motions Monday in U.S. District Court in Las Vegas asking a judge to compel the Department of Energy to stop using the state's water for drilling bore holes at the planned Yucca Mountain nuclear waste site — LRJ.com

Related Information (Nevada)
Motion to Compel Compliance with Requirement for a Three-Way Agreement for Water Usage and Request for Shortening Time



Nevada State Engineer's Motion to Compel Compliance with State Engineer's Orders of June 1 and July 16, 2007, and Request for Order



September 07, 2007 — Feds tell state Yucca Mountain drilling, water use will continue Nevada will go back to a judge if necessary to force the Energy Department to stop using water for drilling test holes around the site of a proposed national nuclear waste dump in the Nevada desert, a state official said Friday — AP (Related information)

September 04, 2007 — Federal judge says drilling must stop at nuke dump site in Nevada — AP (More Coverage) (Related Information)
---
October

Octobere 31, 2007 — U.S Senate Committe on Environment & Public Works — Full Committee hearing entitled, Examination of the Licensing Process for the Yucca Mountain.
October 30, 2007 — ENERGY DEPARTMENT COLLECTION: Database on Yucca challenged — State calls postings incomplete, confusing — WASHINGTON -- Nevada officials said Monday that a public database containing Yucca Mountain documents should be thrown out, charging that important material about the nuclear waste project still has not been posted as required — Stephens Washington Bureau (Related Information)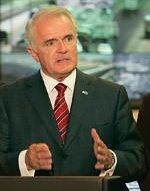 October 25, 2007 — Gibbons says he was snubbed by Yucca Mountain Senate panel WASHINGTON -- Gov. Jim Gibbons charged Wednesday that he was snubbed by a U.S. Senate committee inviting witnesses to testify next week at a hearing on Yucca Mountain. — Stephens Washington Bureau (Story update)

October 25, 2007 — Limits on waste at Yucca deflected — WASHINGTON -- The Nuclear Regulatory Commission on Wednesday denied a Nevada request for limits on how much nuclear waste the government should be allowed to store above ground at Yucca Mountain awaiting burial. The NRC said it is too early to get into the details of how the Department of Energy is designing a nuclear waste repository for the Yucca site. DOE plans to lay out its blueprints when it applies to the NRC next summer for a construction license — Stephens Washington Bureau

October 19, 2007 — Yucca Mountain project posts key notice about document network — LAS VEGAS - The federal Energy Department says it's met a requirement to open its collection of documents supporting plans for a national nuclear waste dump in Nevada — AP (More Coverage)

October 19, 2007 — MORE SYMBOL THAN SUBSTANCE? — Yucca hearing offers Clinton a venue — STEVE TETREAULT STEPHENS WASHINGTON BUREAU

October 19, 2007 — Utilities unsure about nuclear waste canisters — Interest in casks hinges on Yucca Mountain's fate— WASHINGTON -- Utilities "have a healthy level of skepticism" about multipurpose canisters the Energy Department is proposing to ship nuclear waste to a planned Yucca Mountain repository, in part because they are unsure about the project's future, an industry official said Thursday — Stephens Washington Bureau

October 17, 2007 — Senate hearing scheduled on Yucca — WASHINGTON — The U.S. Senate's Environment and Public Works Committee will hold an oversight hearing later this month on Yucca Mountain — AP (More Coverage)

October 17, 2007 — YUCCA MOUNTAIN: State says safety at risk — Contractor hurrying to meet DOE schedule, petition alleges — Stephens Washington Bureau (More info - State cover letter - PDF file 2 pages) - (Nevada AG's petition - PDF file, 22 pages)

October 15, 2007 — Two Nuke Waste Trucking Routes Proposed Through Las Vegas

— LasvegasNow.com

October 10, 2007 — Yucca Mountain is a loser — — Deseret Morning News editorial

October 07, 2007 — Study details scope of rail project needed for Yucca — An average of 17 trains would chug across rural Nevada each week for 50 years carrying nuclear waste, construction materials and scraps to and from the Yucca Mountain repository being developed by the U.S. Department of Energy — LRJ.com

October 05, 2007 — YUCCA MOUNTAIN: DOE: Enlarge repository — Agency studies nearly doubling nuclear waste capacity . . . The department late Thursday issued a draft study that the project's director said analyzes the potential environmental effects of a repository built to hold up to 135,000 metric tons of used nuclear fuel and other highly radioactive waste By STEVE TETREAULT STEPHENS WASHINGTON BUREAU

October 04, 2007 — Energy Department says Yucca Mountain faces funding shortfall WASHINGTON - The proposed nuclear-waste storage facility at Yucca Mountain in Nevada will need up to three times its current funding or the program's 2017 opening date will have to be delayed, a top Energy Department official said Thursday — AP

October 01, 2007 — Company awarded millions in nuclear storage lawsuit — MINNEAPOLIS -- A court has awarded Xcel Energy Inc. $116.5 million over the federal government's failure to open the Yucca Mountain nuclear storage facility on time — AP
---
November

November 29, 2007 — Cox Las Vegas Provides Live Broadcast, Sat Feed and Webcast of Nevada's Challenge to DOE Document Certification for Yucca Mountain —— see http://www.cox96.net

November 28, 2007 — NRC puts complaint about Yucca on hold — Officials say it's too soon to judge request for probe — Stephens Washington Bureau

November 23, 2007 — Poll: Most Nevadans oppose Yucca Mountain nuclear waste site — RENO — Nevada voters remain overwhelmingly opposed to federal plans to store the nation's nuclear waste at southern Nevada's Yucca Mountain, according to a statewide poll published Tuesday — AP

November 23, 2007 — DOE holds more Yucca hearings — Pahrump Valley Times

November 19, 2007 — Yucca rail route still possible in area [Reno] — The U.S. Department of Energy has identified a route through Caliente in eastern Nevada as its preferred rail route to Yucca Mountain, but a route through Mina and central Nevada that could bring close to 2,000 nuclear casks aboard trains through Reno and Sparks is still alive — RGJ.com

November 19, 2007 — Comments of Robert Halstead on DOE's Draft Yucca Mountain Supplemental EIS and Draft Rail Corridor/Rail Alignment EIS (pdf-1.75M) — State of Nevada

November 12, 2007 — Editorial: Governor slights Yucca fight Since taking office in January, Gibbons has acted soft on nuclear waste burial here — Las Vegas Sun

November 10, 2007 — Cortez Masto seeks to block Yucca license — LRJ.com (Related Information)

November 09, 2007 — State may pull punch as Yucca fight intensifies — Feds spend big; Nevada faces budget cuts — Las Vegas Sun

November 2007 — U. S. Department of Energy Issues National Environmental Policy Act Documents for Public Comment — US DOE
November 07, 2007 — DOE boosts Yucca team —Second major legal firm hired for waste project — Stephens Washington Bureau

Novembr 01, 2007 — Nuclear summer on its way? Opposition to coal power plants is helping create interest in nuclear plants — newsreview.com

November 01, 2007 — Yucca project debated anew — With Democrats in charge, hearing takes on a different tenor — Stephens Washington Bureau
---
December

December 30, 2007 — Letter to the Editor — Reid, Congress deserves praise for keeping Yucca nuke dump at bay — Nevada Appeal

December 27, 2007 — Letter to the Editor — Separating Yucca Mountain facts from fiction — Nevada Appeal

December 21, 2007 — New questions about Yucca data — WASHINGTON -- After the Department of Energy spent almost $13 million to replace a body of Yucca Mountain research that had been tainted in an email scandal three years ago, a panel of scientists on Wednesday raised questions about the new work — Stephens Washington Bureau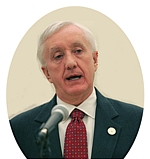 December 21, 2007 — YUCCA MOUNTAIN: Nuclear panel's chief vows objectivity — NRC chairman has industry ties — In the early 1990s, Dale Klein appeared in television advertisements holding a fake nuclear fuel pellet barehanded to show Nevadans how safe disposing nuclear waste in the planned Yucca Mountain repository would be — Las Vegas Review Journal

December 21, 2007 — Yucca funding probably not in time to save state money — Nevada Appeal, Carson City

December 20, 2007 — Nevada's Objections to EPA's and DOE's Proposal to dispose of legacy Plutonium Uranium Extraction (PUREX) solvent mixed waste at the Nevada Test Site — State of Nevada

December 20, 2007 — LAS VEGAS NRC chief says timing could push back Yucca Mountain hearings — The nation's top nuclear regulator said Thursday he could not say whether planned hearings on federal plans for a national nuclear waste dump in Nevada could be thrown off schedule by congressional funding cuts. — AP

December 18, 2007 — YUCCA MOUNTAIN: Congress cuts 22 percent from project: Foes celebrate latest whacking — WASHINGTON -- Congress is taking another deep bite out of Yucca Mountain spending in a final budget bill it plans to pass this week, raising the possibility of even more delays in the government's bid for a nuclear waste site in Nevada — Stephens Washington Bureau

December 14, 2007 — Yucca pledge turns mushy; Official backs off application date — WASHINGTON -- Amid the uncertainties surrounding Yucca Mountain, officials at the Department of Energy steadfastly have clung to a vow that they will be ready by June 30, 2008, to apply for a license for the long-stalled nuclear waste site. That's no ifs, ands or buts," project director Ward Sproat told a nuclear industry conference on Jan. 17 this year. "We have a firm stick in the sand about when this thing is going to go in." But on Thursday, Sproat delivered a different message. The promise now comes with a "big asterisk," Sproat told members of the Nuclear and Radiation Studies Board, an arm of the National Academies of Science. — Stephens Washington Bureau

December 12, 2007 — NRC rejects Nevada's challenge to Yucca Mountain database — AP

December 06, 2007 — Yucca licensing documents missing — Opponents of nuclear waste repository tell licensing board computer access faulty — Out of 30 million pages from 3.7 million different documents that the Department of Energy has posted online to support a license for disposing nuclear waste in Yucca Mountain, some of the key ones are missing — LRJ.com

December 06, 2007 — Nevada fights law firm's deal at Yucca site — Lawmakers allege conflicts of interest — WASHINGTON -- Nevada lawmakers on Wednesday challenged a lucrative contract the Department of Energy has awarded for a law firm to manage licensing for the Yucca Mountain nuclear waste site — LRJ.com

December 05, 2007 — State of Nevada - Statement of Jim Hall, Transportation Policy Consultant -- DOE Draft SEIS — State of Nevada

Decmber 03, 2007 — Statement of Robert Loux, DOE Draft SEIS — State of Nevada