January

January 29, 2003 -- Panel discusses security issues for nuke waste -- An independent scientific panel reviewing Energy Department plans for a nuclear waste repository at Yucca Mountain urged federal officials to ask local emergency managers what their security concerns are over shipping spent reactor fuel . . . We don't have anybody knowledgeable on transportation issues right now," [said] Margaret Chu, director of the Energy Department's radioactive management program, said -- Las Vegas Sun

January 29, 2003 -- GOP yanks nuke issues from Reid -- Reorganization called routine, not a snub -- WASHINGTON -- Senate Republicans slighted Sen. Harry Reid, D-Nev., today, removing nuclear issues from the panel on which Reid is the top Democrat -- Las Vegas Sun

January 29, 2003 -- Reid targets nuke board chief -- Nevada senator says chairman supported Yucca Mountain -- WASHINGTON -- Sen. Harry Reid, D-Nev., on Tuesday called for the resignation of a nuclear waste advisory board chairman who spoke favorably about the Yucca Mountain Project in testimony before Congress two years ago. Reid questioned whether the Nuclear Waste Technical Review Board, highly regarded as an independent voice in nuclear waste science debates, can function effectively with Michael L. Corradini as its head - Las Vegas Review Journal

January 27, 2003 -- Nevada puts five Yucca Mountain claims in one case against NRC -- LAS VEGAS (AP) - Nevada sought to bolster its case against the Nuclear Regulatory Commission on Monday by adding elements of its other lawsuits against the federal government's plan to store the nation's nuclear waste at Yucca Mountain. ( More Coverage - Las Vegas Review Journal )



Read the State of Nevada's Opening Brief

January 22, 2003 -- Sen. Reid trying, as usual, to cut Yucca Mountain funding -- RENO, Nev. (AP) - Sen. Harry Reid, D-Nev., is doing his best again this year to slash the budgets used to move forward with the construction of a nuclear waste storage facility at Yucca Mountain.

January 19, 2003 -- Envirocare at center of battle over waste -- Utah Legislature

January 17, 2003 -- Editor's Note: Yucca Mountain: To be continued -- I attended a press conference about Yucca Mountain the other day. When I mentioned to a news biz colleague that I was surprised he wasn't there, he responded, "If I ever have to write about Yucca Mountain again, I'll kill myself." Or something to that effect -- Las Vegas Mercury

January 12, 2003 -- Some Northern Nevadans OK with Yucca dump -- but not all -- Nevada Appeal (More Coverage)

January 10, 2003 -- IT'S NOT EASY being the Nuclear Regulatory Commission -- Since Sept. 11 the agency that licenses nuclear power plants and waste sites has been battered by criticism. As people demand to know if nuclear facilities are secure against terrorism, the agency has failed to answer -- Las Vegas Sun.

January 09, 2003 -- Nevada to file Yucca challenge -- State charges federal government with infringing on its sovereignty -- WASHINGTON -- Nevada plans to file a long-anticipated lawsuit today charging the federal government with violating state rights under the U.S. Constitution in singling out Yucca Mountain for a nuclear waste repository -- Las Vegas Review Journal &nbsp ;Download State of Nevada's "Constitutional Petition for Review"


Lawsuit Editorial -- Reno Gazette Journal


Lawsuit Editorial -- Las Vegas Review Journal

January 07, 2003 -- NRC: Terrorism not factor in nuke licensing -- WASHINGTON -- The Nuclear Regulatory Commission has ruled that it does not need to consider terrorism risks when it licenses nuclear facilities, but it's not clear if that would apply to Yucca Mountain - Las Vegas Sun

January 07, 2003 -- Nuke fuel to move to Nevada Test Site -- The Energy Department has officially decided to ship tons of bomb-grade plutonium and uranium away from an aging laboratory in New Mexico to the Nevada Test Site. The decision was published last week in the Federal Register - Las Vegas Sun


Download Decision Notice



January 07, 2003 -- A Nuclear Horror Story -- New York Times

January 06, 2003 -- Betting, dump top lawmakers' list -- WASHINGTON -- Nevada lawmakers could face two old battles in a new session of Congress that gets under way Tuesday. The lawmakers said they are bracing for the possible re-emergence of a bill that would ban betting on college athletics in Nevada sports books, and they could again take on the plan to create a temporary nuclear waste dump near the proposed permanent storage site at Yucca Mountain - Las Vegas Sun

January 06, 2003 -- Goshutes Who Have Opposed Nuclear Waste Are Out in Cold -- SKULL VALLEY -- Bitter cold has settled on the small Goshute tribal village at Skull Valley. Margene Bullcreek is feeling the worst of it. She opposes a $3.1 billion nuclear waste storage facility planned for tribal land near the village and believes bully politics has led to the grim plight she and other opponents are suffering this winter -- THE SALT LAKE TRIBUNE

January 06, 2003 -- N.R.C. Excludes Terrorism as Licensing Consideration -- WASHINGTON, Jan. 6 — The Nuclear Regulatory Commission has ruled that the threat of terrorism cannot be considered when licensing reactors or other nuclear installations because the risk is too speculative -- New York Times

January 05, 2002 -- Is the NRC About to Create New Downwinders? -- During the early atmospheric nuclear testing of the 1950s and '60s, individuals downwind from the test sites developed leukemia and cancers, from the mouth to the colon, at accelerated rates -- THE SALT LAKE TRIBUNE

January 2, 2003 -- Martin G. Malsch Joins Egan & Associates -- Veteran nuclear regulatory attorney Martin G. Malsch, a former Acting General Counsel and Deputy General Counsel of the Nuclear Regulatory Commission and its first Inspector General, joins McLean, Virginia-based Egan & Associates, PLLC as a partner effective January 1, 2003. The firm will be renamed Egan Fitzpatrick & Malsch upon his admission to the Virginia Bar -- State of Nevada


---
February



February 2003 -- OCRWM FY04 Budget ( 84 Pages - 1.80MB)



February 25, 2003 -- Remarks of Robert R. Loux, Executive Ditector, Neveada Agency for Nuclear Projects -- U. S. Nuclear Waste Technical Review Board on the State of Nevada's Approach to High-Level Nuclear Waste Transportation Risk Management



February 22, 2003 -- Team to assess risks of nuclear waste shipments -- Casks, routes, health impacts to be studied -- WASHINGTON -- The National Academy of Sciences is assembling a team of independent experts to examine the potential risks of shipping nuclear waste to a Yucca Mountain repository. The two-year study, expected to be completed in 2005, will analyze a broad range of matters including transportation cask testing, selection of routes to the proposed burial site, possible health impacts and public perceptions of risk, an academy official said -- Las Vegas Review Journal

February 20, 2003 -- Yucca Mountain Update -- State of Nevada

February 14, 2003 -- Budget bill earmarks $300 mil. for Nevada -- WASHINGTON -- Congress on Thursday stamped its final approval on the $400 billion federal budget bill that allocates money to most federal departments and projects in the fiscal year that began Oct. 1. -- President Bush is expected to sign the bill -- Las Vegas Sun

February 11, 2003 -- Nevadans say Goshute dump could be alternative to Yucca -- WASHINGTON -- As part of their broader fight against the Yucca Mountain permanent nuclear waste repository, Nevada lawmakers have also battled plans for a temporary storage site on Indian land in Utah -- Las Vegas Sun

February 10, 2003 -- Nevada lawmakers hear outline on Yucca suits -- Robert Loux, administrator of the state Office of Nuclear Projects, told the Assembly Ways and Means Committee four cases will be up in federal court in September, and he expects a ruling in either late December or early January 2004. The state asked the U.S. Court of Appeals in Washington, D.C., to hear all four cases together, a request that was granted. Loux said he's confident the state's challenges will be upheld -- Reno Gazette Journal

February 07, 2003 -- Yucca study poses 'staged' facility idea -- Report suggests repository be built in modules -- WASHINGTON -- An influential science panel on Thursday recommended developing the Yucca Mountain Project in stages, adding small-scale test phases and raising the idea of storing more radioactive waste above ground at the repository site than proposed up to now. The National Research Council said an "adaptive staging" strategy would allow the Department of Energy to incorporate the latest science in its repository designs while allowing for missteps to be reversed without causing big cost overruns or delays. - Las Vegas Review Journal (Read Report Summary) (Read Full Report)

February 04, 2003 -- DOE seeks flexibility on Yucca funding -- Similar amount sought for '04 with power to spend more later -- WASHINGTON -- The Energy Department sent a 2004 budget to Congress on Monday that contains $591 million for the Yucca Mountain Project, while unveiling a plan that could ease the way to spend billions more in coming years - Las Vegas Review Journal

February 04, 2003 -- Yucca Mountain Nuclear Waste repository -- Proposal would shield Yucca funding -- WASHINGTON -- The Energy Department has a new plan to avoid the annual budget limit set by Congress for the Yucca Mountain project - Las Vegas Sun

March

March 25, 2003 -- Yucca project lagging -- WASHINGTON -- The Energy Department is scrambling to keep the next phase of the Yucca Mountain project on schedule but is a few months behind, a department official said today -- Las Vegas Sun

March 25, 2003 -- NRC issues plan for Yucca review -- The Nuclear Regulatory Commission issued a draft Monday of its final plan that would be used to review an expected application from the Department of Energy to build a high-level nuclear waste repository at Yucca Mountain. The 474-page draft plan was released for information, not comment -- Las Vegas Sun

March 20, 2003 -- Daschle pushes Reid aide for NRC post -- Appointment might help decide Yucca fate -- WASHINGTON -- A scientist on the staff of Sen. Harry Reid, D-Nev., is being promoted by Senate Democrats as a nominee to the Nuclear Regulatory Commission. Minority Leader Tom Daschle, D-S.D., wrote to President Bush on Wednesday recommending Gregory B. Jaczko for the five-person panel that regulates the nuclear industry and will decide on the proposed nuclear waste repository at Yucca Mountain in Nevada. Jaczko, 32, has been Reid's principal adviser on nuclear power and the Yucca Mountain Project since 2001 -- Las Vegas Review Journal

March 17, 2003 -- U.S. judge denies DOE request for Yucca water -- CARSON CITY -- A federal judge handed Nevada an apparent win over the Department of Energy in the fight over water for Yucca Mountain -- Las Vegas Sun

March 12, 2003 -- Nevada officials push for full-scale tests of nuke-waste casks -- Nevada government and environmental representatives have long urged the Nuclear Regulatory Commission to ensure that any cask used to ship high-level nuclear waste to Nevada is able to withstand the most severe accidents - Las Vegas Sun

March 11, 2003 -- Snubbing of Utah site may boost Yucca fight -- WASHINGTON -- Nevada officials say the Nuclear Regulatory Commission's denial of a license to a temporary nuclear waste dump in Utah bodes well for the state's battle against a permanent repository at Yucca Mountain - Las Vegas Sun

March 10, 2003 -- NRC Blocks Plan to Store Nuclear Waste -- WASHINGTON -- Federal regulators on Monday blocked a proposal by private utility companies to store high-level nuclear waste on an Indian reservation in Utah's west desert, citing the dangers posed by a nearby Air Force training range -- AP ( Related Story )

March 07, 2003 -- Rural officials seek deal, not a fight on Yucca -- WASHINGTON -- Officials in rural Nevada counties are increasingly eager for the state to drop its costly lawsuits against Yucca Mountain and to negotiate for benefits, representatives from Nye, Lincoln and Esmeralda counties said today -- Las Vegas Sun

March 06, 2003 -- Doubts raised about nuclear cask testing -- WASHINGTON -- Nevada officials said today that they have a number of concerns about the Nuclear Regulatory Commission's proposed tests for the massive metal containers that would be used to haul nuclear waste cross-country to Yucca Mountain . . . . Abby Johnson of Eureka County, Nev., urged NRC officials to do a better job of explaining their test protocols and cask requirements to those who are most effected by the Yucca waste shipping plan. People in Eureka County don't understand the complex proposals, she said.
"The public isn't the people in this room," she said. "If you are looking for public confidence you have to be able to explain your tests to regular people." -- Las Vegas Sun

March 05, 2003 -- Nuke industry makes pitch for expansion -- WASHINGTON -- Nuclear industry officials and government regulators told Congress today that nuclear power should be expanded in the United States - Las Vegas Sun

March 05, 2003 -- Barriers for California Reactor on Road to Nuclear Graveyard -- SAN CLEMENTE, Calif., March 4 — Emptied of most of its innards, filled with concrete and encased in a 40-foot steel canister, a decommissioned nuclear reactor here is headed for a nuclear graveyard in South Carolina.

March 04, 2003 -- Implications of the Baltimore Rail Tunnel Fire for Full-Scale Testing of Shipping Casks -- Paper by Rober J. Halstead and Fred Dilger



April

April 28, 2003 -- Three who found fault with Yucca procedures reassigned -- Four-member team said revisions flawed -- WASHINGTON -- The treatment of three members of a Yucca Mountain review team who were removed from their audit jobs after they found project flaws is part of an old and troubling trend, Yucca critics and observers said - Las Vegas Sun

April 25, 2003 -- Flaws found in Yucca procedures -- The Energy Department's embattled Quality Assurance program for the Yucca Mountain nuclear waste repository project has run into more trouble . . . . "The DOE recognizes that it has a deficient QA program," Nevada Nuclear Projects Agency director Bob Loux said. "It's always had a deficient QA program." Loux said the department has long tried to keep project flaws tightly under wraps, Loux said -- Las Vegas Sun

April 23, 2003 -- Nuke waste transportation problems cited -- ROCKVILLE, Md. -- Fourteen months after the Energy Department deemed Yucca Mountain a safe place to bury the nation's nuclear waste, the department still has no plan to safely haul the highly radioactive material there, paid consultants for the state of Nevada said Tuesday -- Las Vegas Sun

April 22, 2003 -- Panel of noted scientists favors developing Yucca in stages -- ROCKVILLE, Md. -- Developing Yucca Mountain in stages -- a strategy that would likely include storing more highly radioactive waste at an above-ground transfer station for longer periods of time than originally envisioned -- is a "promising approach," members of a panel of respected scientists said today -- Las Vegas Sun

April 22, 2003 -- Utah argues against plan for reduced Goshute nuclear storage -- SALT LAKE CITY - State attorneys have urged federal regulators to reject a consortium's cutback proposal for storing nuclear waste at the Goshutes' Skull Valley reservation in western Utah -- AP

April 18, 2003 -- Nevada lawmakers urge use of experts outside of agency -- Letter: NRC must ensure unbiased look at repository's licensing -- WASHINGTON -- Nevada lawmakers Thursday endorsed a call for independent experts to judge whether a nuclear waste repository should be licensed at Yucca Mountain. In a letter to the chairman of the Nuclear Regulatory Commission, the five Nevadans in Congress urged appointment of hearing boards from outside the NRC to handle the Yucca Mountain Project -- Stephens Washington Bureau

April 18, 2003 -- YUCCA MOUNTAIN: Industry official questions oversight -- Regulators' questions distracting Energy Department, repository supporter says -- WASHINGTON -- A nuclear industry official on Thursday urged government regulators to set aside some of their questions about Yucca Mountain until the Energy Department applies for a license to build a nuclear waste repository at the Nevada site - By STEVE TETREAULT STEPHENS WASHINGTON BUREAU

April 12, 2003 -- Report on the Price-Anderson Act and its Potential Effects on Eureka County, Nevada Prepared For -- The Board of Eureka County Commissioners Eureka, Nevada

April 11, 2003 -- Sandoval says feds aren't offering money for Yucca -- At a University of Nevada, Las Vegas, forum Thursday night, Nevada Attorney General Brian Sandoval said people ask him all of the time if it wouldn't be wiser for the state to get paid for the Yucca Mountain nuclear waste repository instead of spending millions to try to keep it from opening -- Las Vegas Sun

April 09, 2003 -- Top Yucca manager urges full allocation -- Licensing application in jeopardy, Chu tells Senate panel; Reid to fight for funding cuts -- WASHINGTON -- The Energy Department's top nuclear waste repository manager renewed calls this week for full funding of the Yucca Mountain Project, but the program's chief critic in Congress signaled he again will stand in the way -- Stephens Washington Bureau

April 08, 2003 -- DOE withholds Yucca money from counties -- Department reviewing audits of how funds are being spent -- WASHINGTON -- The Department of Energy is withholding more than $1.5 million from Nevada counties while it reviews audits detailing how the local entities are spending federal money to monitor the Yucca Mountain Project, county officials said Monday -- Stephens Washington Bureau

April 04, 2003 -- State submits petition to NRC -- Nevada wants independent experts to judge Yucca plan -- WASHINGTON -- Nevada officials called Thursday for independent experts to judge the Energy Department's license request for a nuclear waste repository at Yucca Mountain, saying they would ensure fairness and credibility - Las Vegas Review Journal

April 02, 2003 -- Russia to continue importing nuclear waste, says minister -- ENN

April 02, 2003 -- Nuclear engineer new NRC chairman -- WASHINGTON -- Nils J. Diaz, a nuclear engineer and government regulator for the past seven years, has been elevated by President Bush to become chairman of the Nuclear Regulatory Commission - Las Vegas Review Journal

April 01, 2003 -- Denial of Utah nuke dump to be appealed -- The nuclear power companies that were denied a permit last month to dump nuclear waste at an Indian reservation in Utah have appealed the ruling - Las Vegas Sun

April 01, 2003 -- DOE looks at Yucca options -- Project managers might ship nuclear waste by truck rather than rail to save money -- WASHINGTON -- Spurred by shrinking budgets, the Energy Department is reconsidering its strategy to ship nuclear waste to a planned repository at Yucca Mountain via railroad in Nevada -- Las Vegas Review Journal

April 01, 2003 -- New Nuke-Waste Proposal -- Proponents of storing high-level nuclear waste in Skull Valley hope they can increase the prospect for licensing their project if they temporarily shrink its size. Private Fuel Storage (PFS), the consortium of nuclear utilities behind the Skull Valley plan, proposed on Monday to scale back the waste facility to one-tenth of its original size as part of a strategy to overturn last month's finding by the Atomic Safety and Licensing Board - By Judy Fahys, The Salt Lake Tribune

May

May 30, 2003 -- Improvements for Yucca are outlined -- WASHINGTON -- The Energy Department's nuclear waste director has launched a comprehensive effort to improve efforts at Yucca Mountain, including a strategy to make workers feel free to raise concerns. Margaret Chu's plan also includes management shifts, a "corrective actions" program, more attention to procedures and more worker accountability. Chu outlined her efforts Thursday in a letter to the Nuclear Regulatory Commission -- Las Vegas Sun.

May 30, 2003 -- Nuclear waste site in Utah rejected -- But scaled-back plan can be resubmitted -- ROCKVILLE, Md. -- The government on Thursday rejected a bid for a scaled-back plan for a nuclear waste dump in the Utah desert southwest of Salt Lake City, but said the proposal can be resubmitted. The Atomic Safety Licensing Board said the request was not filed properly. The three-judge panel said Private Fuel Storage could try again, and that their effort would be expedited - AP

May 30, 2003 -- DOE gets OK to award contract -- Firm would help agency prepare Yucca license application -- WASHINGTON -- A federal court has cleared the way for the Energy Department to hire a new law firm for the Yucca Mountain Project. A New York firm's bid to block DOE from awarding a legal services contract was denied late Wednesday by the U.S. Circuit Court of Appeals for the District of Columbia, attorneys confirmed -- By STEVE TETREAULT - STEPHENS WASHINGTON BUREAU

May 29, 2003 -- Counties dispute new audit on Yucca -- Officials from Nevada counties said they disagree with a new audit that questions how they spent $3.3 million of federal oversight funds for the Yucca Mountain nuclear waste repository project -- Las Vegas Sun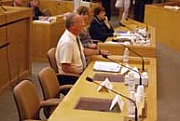 May 28, 2003 -- Reid, Ensign use Vegas hearing to air nuclear dump complaints -- LAS VEGAS - Nevada's U.S. senators vowed Wednesday to keep investigating allegations of quality control problems and whistleblower intimidation at the desert site picked to bury the nation's nuclear waste -- AP ( More Coverage, Las Vegas Review Journal)

May 29, 2003 -- Counties accused of misusing federal Yucca Mountain funds -- DOE auditors say money cannot be used on lobbying, lawsuits or to seek allies against site -- WASHINGTON -- Three Nevada counties misspent $3.3 million in federal money as they monitored the government's bid to bury nuclear waste at Yucca Mountain, inspectors said in a report released Wednesday -- STEPHENS WASHINGTON BUREAU

May 27, 2003 -- Yucca project witnesses decide against testifying -- Senator still expects to hold hearing -- WASHINGTON -- The shape of a U.S. Senate hearing scheduled for Wednesday in Las Vegas was thrown into the air over the weekend after one witness and possibly a second declined to testify on allegations of problems within the Yucca Mountain Project. Sens. Harry Reid, D-Nev., and John Ensign, R-Nev., on Monday announced witnesses for the hearing, including two still employed in the Energy Department nuclear waste repository program who contend they faced retaliation after bringing bad news to supervisors -- STEPHENS WASHINGTON BUREAU

May 22, 2003 -- Nuclear utilities challenge licensing board decision -- SALT LAKE CITY - A federal board ruled Thursday that a planned storage site for spent nuclear fuel rods in Utah's west desert meets the safety standards to withstand possible earthquakes. The ruling doesn't, however, pave the way for the consortium of nuclear-power utilities to gain a license for the facility -- AP

May 22, 2003 -- Nuclear power groups give $5.8 million to candidates -- WASHINGTON -- The nuclear power industry continues to fill the pockets of congressional lawmakers with campaign money, a watchdog group said -- Las Vegas Sun

May 22, 2003 -- NUCLEAR WASTE: Auditor: Yucca morale sinking -- Quality assurance employee tells senators `project appears to be in a downward spiral' -- WASHINGTON -- A Yucca Mountain Project auditor has sent an appeal to Nevada's senators, declaring morale is sinking in the nuclear waste program and "it has become increasingly difficult for people to do their jobs" -- STEPHENS WASHINGTON BUREAU

May 14, 2003 -- Energy officials bypass bidding process -- Agency will award Yucca Mountain legal contract after informal search -- WASHINGTON -- The Energy Department plans to bypass customary formal bidding and instead will award a multimillion-dollar legal services contract for the Yucca Mountain Project based on a more informal search among law firms, DOE officials confirmed Tuesday -- STEPHENS WASHINGTON BUREAU

May 13, 2003 -- Yucca project struggles to stay open after cuts -- WASHINGTON -- The Energy Department is struggling to keep the Yucca Mountain project on track to meet key deadlines amid budget cuts, top project managers said today - Las Vegas Sun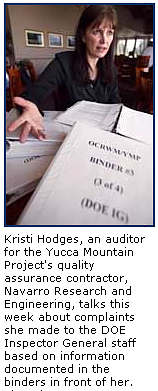 May 09, 2003 -- YUCCA COMPLAINTS: Settlement costs sound alarm -- Fired employees worried about quality assurance - Yucca Mountain Project contractors have paid out hundreds of thousands of dollars to settle actions brought by fired employees who were concerned about quality assurance at the proposed nuclear waste burial site -- Las Vegas Review Journal

May 09, 2003 -- Waste shipping debate examines Baltimore tunnel fire -- Nevada: Such an accident involving nuclear waste would endanger public -- WASHINGTON -- When a freight train carrying hazardous fuels derailed and caught fire inside a downtown Baltimore tunnel in July 2001, the accident immediately got woven into debate over whether nuclear waste could be transported safely to Yucca Mountain in Nevada - STEPHENS WASHINGTON BUREAU

May 09, 2003 -- Yucca layoffs possible as budget cuts loom -- WASHINGTON -- About 50 to 100 workers face possible layoffs this summer as the Energy Department continues to struggle with funding for the Yucca Mountain Project, a DOE official said Thursday - STEPHENS WASHINGTON BUREAU

May 06, 2003 -- State argues nuclear waste plan violates Constitution -- WASHINGTON -- Nevada is pursuing a legal case that argues the government's effort to single out the state for nuclear waste disposal was unconstitutional. Rather than adhere to limits on federal authority, the Bush administration and Congress applied "raw political power" and usurped Nevada's sovereignty when Yucca Mountain was designated for nuclear waste burial through a resolution passed last year, the state contends - Las Vegas Review Journal


Read the Petition for review of joint resolution designating Yucca Mountain, Nevada as Nuclear Waste Repository Site -- Adobe PDF File 540KB



May 06, 2003 -- Hearing to explore Yucca project woes -- Senators responding to recent reports -- WASHINGTON -- Nevada's senators on Monday announced a May 28 Senate hearing in Las Vegas will explore recent reports of problems within the Yucca Mountain Project. Aides said the senators had not yet determined who will be invited to testify. Possibilities include officials from the Energy Department and the Nuclear Regulatory Commission, current and former project auditors and outside experts - STEPHENS WASHINGTON BUREAU



June

June 26, 2003 – Probe of nuke waste casks is set – WASHINGTON – The Nuclear Regulatory Commission's inspector general said this morning that he will investigate whether the agency appropriately responded to charges that a nuclear waste container used in five states is flawed - Las Vegas Sun

June 25, 2003 – Test sheds light on waste storage – ROCKVILLE, Md. – Scientists who loaded nuclear waste into a metal storage container in 1985 and opened it up nearly 15 years later discovered no evidence of container stress or decay, a Nuclear Regulatory Commission official said - Las Vegas Sun

June 24, 2003 – DOE streamlines Yucca questions – ROCKVILLE, Md. – The Energy Department today unveiled a streamlined strategy to answer unresolved scientific questions about Yucca Mountain that will help the department meet its next project deadline. Instead of answering each of 194 questions individually, the department wants to "bundle" them into 14 groups – Las Vegas Sun

June 20, 2003 – YUCCA MOUNTAIN ADVERTISING: Study: Big spenders won – Pro-nuclear waste dump groups clearly outspent Nevada and anti-project forces – WASHINGTON – Lobbyists seeking to sway lawmakers on the Yucca Mountain Project last summer spent more than $570,000 to advertise in newspapers and newsletters with big audiences on Capitol Hill, according to a study released Thursday – STEPHENS WASHINGTON BUREAU

June 19, 2003 – House group pushes for full Yucca funding – WASHINGTON – A bipartisan group of House lawmakers is pressuring House appropriators to give the Energy Department the full $591 million it requested for Yucca Mountain next year – Las Vegas Sun

June 13, 2003 – Government studying aircraft threat at Nevada nuke dump – LAS VEGAS - Federal officials on Friday downplayed the chance that aircraft including military bombers from Nellis Air Force Base could pose a threat to the Nevada site picked to bury the nation's radioactive waste – AP




More Coverage - Las Vegas Sun

June 03, 2003 – Yucca lawyers to get edited material – Homeland Security Act cited as reason – Lawyers preparing to fight the Yucca Mountain project will have to settle for an edited set of documents from the Energy Department, a result of the federal Homeland Security Act – Las Vegas Sun.



July

July 30, 2003 – Nevadans urge analysis of federal Yucca plan – ROCKVILLE, Md. – A federal plan designed to make sure the Yucca Mountain nuclear waste dump, if approved, is working according to plan should have independent comprehensive analysis, Nevada representatives told the Advisory Committee on Nuclear Waste this morning – By Suzanne Struglinski LAS VEGAS SUN

July 28, 2003 – Yucca shipping information on hold until 2006 – An Energy Department official said the federal government will not be ready to reveal shipping routes or whether high-level nuclear waste will travel by rail or road until 2006, surprising those attending a Las Vegas meeting Friday - Las Vegas Sun

July 26, 2003 – Yucca routes debated – Panel considers nuclear waste safety – A panel of scientists and academics focused Friday on how the federal government can safely ship radioactive waste across the country to a planned national nuclear waste dump in Nevada. Nevada officials told a 16-member National Academies panel that the Energy Department's plan for shipping the nation's nuclear waste from 70 sites across the country to Yucca Mountain was too incomplete to assess. "There is no plan," said Bob Loux, chief of Nevada's Nuclear Projects Agency that is working to stop the project. "No one can do any planning until they know the mode and the route." – AP ( More Coverage - Las Vegas Sun )

July 25, 2003 – Island designated as nuclear waste site – The Korea Herald

July 24, 2003 – John Hadder of the statewide environmental group, Citizen Alert, tapes the group's slogan – Nevada is not a wasteland – to the back of a mock nuclear waste cask while Rudy Padron watches Thursday outside the Crowne Plaza Hotel. For more than an hour,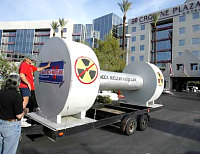 Citizen Alert members towed the cask behind a National Academies panel that toured possible transportation routes in Southern Nevada to the planned Yucca Mountain repository. The panel, meeting at the Crowne Plaza, will hear perspectives today from Nevada and federal officials on the government's plans to haul highly radioactive waste to the mountain for disposal – Photo by Gary Thompson - Las Vegas Review Journal

July 23, 2003 – NRC releases revised plan for Yucca licensing – WASHINGTON – The Nuclear Regulatory Commission on Tuesday issued its final plan for the review of the Energy Department's anticipated license application for the Yucca Mountain high-level nuclear waste repository - Las Vegas Sun

July 19, 2003 – LAWMAKERS' APPEAL: Early Yucca storage plan dropped – But House passes bill including $765 million for nuclear waste project – WASHINGTON – House leaders heeded the pleas of Nevada's two Republican lawmakers Friday and agreed to set aside new studies of early nuclear waste storage at Yucca Mountain. After initial appeals to the bill's author failed, Reps. Jon Porter and Jim Gibbons said they took their case up the ladder to Speaker Dennis Hastert, R-Ill., and Majority Leader Tom DeLay, R-Texas - STEPHENS WASHINGTON BUREAU

July 18, 2003 – YUCCA MOUNTAIN REPOSITORY DOE seeks input on moving nuclear waste – Event included officials from states, public safety groups, utilities and shipping firms – WASHINGTON – The Energy Department sought to jump-start a segment of its nuclear waste program Thursday by seeking advice from state and industry experts on strategies to transport spent nuclear fuel to a Yucca Mountain repository – STEPHENS WASHINGTON BUREAU

July 18, 2003 – U.S. Senate panel OKs bill with Yucca money – Differences with House measure must be resolved – WASHINGTON – Nevada counties, universities and research groups would receive $20.5 million next year to monitor the government's effort to develop a nuclear waste repository at Yucca Mountain, according to a spending bill approved Thursday by a Senate committee – STEPHENS WASHINGTON BUREAU

July 17, 2003 – Panel to take comment on Yucca transportation – A National Research Council committee examining nuclear waste transportation risks will meet in Las Vegas next week to field public comment and hear presentations on a national program to haul spent fuel assemblies to the planned Yucca Mountain repository – Las Vegas Review Journal

July 17, 2003 – Yucca may face more toxic waste – GAO report says nuclear cleanup in trouble at 3 sites – WASHINGTON – Obstacles imperil a new Energy Department plan designed to speed its massive effort to clean up radioactive waste at three U.S. nuclear weapons sites, a congressional audit said. And the plan's failure could ultimately translate to more waste bound for Yucca Mountain – Las Vegas Sun

July 16, 2003 – Bechtel studies reports of flaws – Yucca contractor preparing for license application By Mary Manning – A Department of Energy contractor is studying 22,000 documents linked to the high-level nuclear waste Yucca Mountain repository program in an effort to find the root of numerous flaws detected by reviewers - Las Vegas Sun

July 16, 2003 – Reid panel cuts Yucca budget – WASHINGTON – Sen. Harry Reid, D-Nev., today unveiled a dramatically slashed budget proposal for Yucca Mountain next year – $425 million - - Las Vegas Sun

July 16, 2003 – Yucca budget bills far apart – House, Senate measures differ by $340 million – Las Vegas Review Journal

July 15, 2003 - YUCCA MOUNTAIN PROJECT: Spending bill offers Nevada $30 million – Sum set aside to mitigate nuclear waste repository impacts – WASHINGTON – A new Energy Department spending bill earmarks $30 million for Nevada and its counties to ease the impact of nuclear waste burial in the state. Millions more would go for local spending on the Yucca Mountain Project. A year after Congress designated Yucca Mountain for a nuclear waste repository, legislation set to be considered in a U.S. House committee on Tuesday sets aside the first sizable sum for communities to mitigate potential economic, social, public health, safety and environmental impacts from the project - STEPHENS WASHINGTON BUREAU

July 14, 2003 – Hearing scheduled on DOE requests for Yucca water – CARSON CITY – The state engineer's office has set August hearings on the Energy Department's application to draw water to build and run the proposed high-level nuclear waste dump at Yucca Mountain – Las Vegas Sun

July 10, 2003 – Poll: Most favor negotiations on `inevitable' dump – Nuclear Energy Institute conducted survey – There is increasing belief among Nevadans that Yucca Mountain will eventually be home to the nation's nuclear waste and that it's time for the state's politicians to seek benefits in exchange, according to a new poll conducted by the Nuclear Energy Institute.

July 09, 2003 – Lawmakers hope to trim record budget for Yucca – WASHINGTON – A House panel has approved what would be the biggest annual Yucca Mountain budget ever – a proposal to spend $765 million next year on the 20-year-old nuclear waste repository project. But the annual process of wrangling over the project budget has just begun, and Nevada lawmakers expect the budget will be trimmed significantly before Congress finalizes it – Las Vegas Sun

July 08, 2003 – YUCCA MOUNTAIN: Bill aids whistle-blowers – Nevada's senators say DOE workers feel jobs threatened – WASHINGTON – New legislation by Nevada's senators aims to broaden job protections for federal energy workers who suffer retaliation after reporting wrongdoing. Sens. Harry Reid, D-Nev., and John Ensign, R-Nev., said Monday they were motivated by their unsuccessful efforts to persuade two Yucca Mountain Project workers to testify at a May hearing in Las Vegas about flaws in the nuclear waste repository program – STEPHENS WASHINGTON BUREAU

July 04, 2003 – Radioactive waste rule rejected – Department of Energy wanted to reclassify material to sidestep permanent removal – BOISE, Idaho – A federal judge overturned an Energy Department regulation the government planned to use to reclassify some highly radioactive waste in Idaho, Washington and South Carolina as low-level waste, so that it would not have to be permanently removed. U.S. District Judge B. Lynn Winmill said the Energy Department regulation violated the 1982 Nuclear Waste Policy Act – AP

August

August 27, 2003– Nevada officials prepare anti-Yucca legal strategy – Lawyers, consultants choose best arguments for defeating nuke dump – LEESBURG, Va. – At a conference center outside Washington D.C., Nevada-hired attorneys, state officials and technical experts on Tuesday began forming legal presentations against the Yucca Mountain Project . . . . Gathered behind closed doors at the Lansdowne Resort in suburban Virginia, Sandoval, state nuclear projects director Bob Loux and 18 lawyers and state-hired science consultants began by discussing the state's defense against procedural points that Justice and Energy department attorneys have raised in legal briefs, Sandoval said — Stephens Washington Bureau

August 23, 2003 — Official wants sludge defined — Judge's ruling affects nuclear waste dump — Energy Secretary Spencer Abraham has asked Congress to clarify the definition of high-level nuclear defense waste stored in three states in order to skirt a court ruling that requires his agency to dispose of it in the planned Yucca Mountain repository — Las Vegas Review Journal

August 22, 2003 — Nuclear Waste agency seeks to cut off feds' water at Yucca Mountain — Nevada's Nuclear Waste Project Office wants to cut off the federal government's water at Yucca Mountain. But a lawyer for the federal Department of Energy argued Thursday the state engineer is obligated to issue water permits because the application meets state requirements - by Geoff Dornan, Appeal Capitol Bureau

August 20, 2003 —Hearings open on nuke waste water -- CARSON CITY -- The state attorney general's office said today allowing underground water to be used in the development and operation of a high-level nuclear dump at Yucca Mountain will "drastically undermine future beneficial uses of water" in Nevada — Las Vegas Sun

August 19, 2003 – Waste route stirs debate – Test site material might travel across rural Nevada– WASHINGTON – Federal and state officials are considering a proposal for the Energy Department to transport plutonium-tainted material across rural Nevada starting in 2005 after California opposed the use of one of its roadways -- Stephens Washington Bureau



August 16, 2003 – Trial for state's Yucca lawsuits postponed – WASHINGTON – A federal appeals court has ordered an indefinite delay in the trial of a group of four Nevada lawsuits seeking to block the licensing of a nuclear waste repository at Yucca Mountain. Opening arguments, which had been scheduled for Oct. 3, were postponed Thursday by the U.S. Circuit Court of Appeals in Washington. Linda Jones, the courts operations manager, said she hoped the trial would be rescheduled before the end of the year, but she wasn't sure – – Stephens Washington Bureau

August 15, 2003 – DOE argues for groundwater rights – Brief: Using wells to build, operate nuclear waste dump is beneficial – In stark contrast to the state's position, pumping 140 million gallons of groundwater a year from Nye County wells to build and operate a nuclear waste repository at Yucca Mountain is a beneficial use, an attorney for the Department of Energy argued in a pre-hearing brief this week - – Las Vegas Review Journal

August 15, 2003 – Denial of water for nuke dump urged – Hearing slated next week in Carson City – Allowing the Energy Department to tap groundwater in Nye County for the planned Yucca Mountain nuclear waste repository is not in the public's interest and any such requests should be denied, Nevada attorneys said in a brief filed Wednesday with the state engineer – Las Vegas Review Journal

August 15, 2003 – Groups urge panel to reject Yucca provision in bill – Seventeen environmental and government watchdog groups sent a letter this week to members of a defense authorization conference committee urging them to reject a provision in a bill passed by the House that could tighten secrecy on the Yucca Mountain nuclear waste project Las Vegas Review Journal

August 13, 2003 – Newspaper insert touts fight against Yucca – The issue of the Yucca Mountain nuclear waste repository is not a done deal, Clark County officials hope to convince residents with a advertising insert in today's newspapers. The Clark County Nuclear Waste Division, which has for years fought the federal proposal to dump 77,000 tons of high-level nuclear waste in the mountain 90 miles northwest of Las Vegas, included the 12-page insert in 150,000 copies of local newspapers today – Las Vegas Sun

August 13, 2003 – Virginia law firm to represent state in fight over Yucca – Contract that pays up to $4 million during the next year to try to stop waste dump OK'd – CARSON CITY – A Virginia law firm will continue Nevada's legal fight against construction of a high-level nuclear waste dump at Yucca Mountain, the Board of Examiners decided Tuesday. The firm of Egan, Fitzpatrick & Malsch of McLean, Va., will be paid up to $4 million over the next year to present Nevada's case for why the Yucca Mountain Project should be stopped, said Bob Loux, executive director of the state's Nuclear Waste Project Office – By SEAN WHALEY REVIEW-JOURNAL CAPITAL BUREAU

August 13, 2003 – Firm fighting Yucca adds Utah as client – State opposes Goshute spent fuel complex – WASHINGTON – The law firm Nevada hired to challenge the Yucca Mountain Project has signed on also to fight nuclear waste storage proposed within Utah. Egan, Fitzpatrick and Malsch of McLean, Va., has added the state of Utah as a client. The firm expects to focus on a key segment of the state's case against a private spent fuel complex planned for the Goshute Indian reservation 75 miles southwest of Salt Lake City. Law firm chairman Joe Egan said the firm will report on possible health and safety outcomes if a military aircraft from nearby Hill Air Force Base were to crash at the site – By STEVE TETREAULT STEPHENS WASHINGTON BUREAU

August 13, 2003 – Waste shipment raises concerns – Some officials complain that DOE didn't tell them of plan to ship irradiated fuel assemblies – WASHINGTON – An activist group has asked an independent study board to evaluate how the Energy Department handled a shipment of high level nuclear waste last month after some local officials complained they were not notified of the transportation plan – By STEVE TETREAULT STEPHENS WASHINGTON BUREAU

August 09, 2003 – DOE seeks law that could tighten Yucca secrecy – Some lawmakers, watchdog groups raise concerns about proposal – WASHINGTON – The Department of Energy is seeking a new law from Congress that could tighten secrecy on the Yucca Mountain Project. A small piece of legislation expands DOE control on information about unclassified security-related aspects of nuclear waste storage facilities and factories that enrich uranium for nuclear fuel. Some lawmakers and watchdog groups said they fear it could lead DOE to restrict information about transportation routes to the proposed Yucca Mountain repository or limit disclosures about possible threats to the Nevada site from airplane crashes – By STEVE TETREAULT STEPHENS WASHINGTON BUREAU

August 09, 2003 – Berkley renews demand for anti-terrorist plan for Yucca – WASHINGTON – Rep. Shelley Berkley, D-Nev., has resurrected a bill that would require the government to develop a comprehensive anti-terrorist plan before applying for a license to store nuclear waste at Yucca Mountain. The legislation seeks to stall the nuclear waste repository planned for Nevada by creating "massive hoops and hurdles for the Energy Department to jump through to demonstrate every possible safety aspect of Yucca Mountain shipping and storage is covered," Berkley chief of staff Richard Urey said Friday – STEPHENS WASHINGTON BUREAU

August 01, 2003 – Storage site up in air – Maneuverings hold up nuclear waste dump plans in Utah – SALT LAKE CITY – A federal licensing board is pushing off a final decision on a troubled application for a nuclear waste dump at an American Indian reservation in Utah's west desert. The Atomic Safety and Licensing Board said Thursday it would be unable to finish a review of the Skull Valley project by year's end and will establish a new timetable. Meanwhile, the U.S. Department of Energy said it was looking at a long-shot alternative for storage of spent fuel rods in northern Utah – AP.

August 01, 2003 – A Senate energy bill could mean more nuke waste in Nev. – Las Vegas Sun

September

September 30, 2003 – UNLV scientists asked to study Yucca radioactivity – AMARGOSA VALLEY -- The Energy Department has signed an $850,000 contract with the University of Nevada, Las Vegas, to find out where radioactive chlorine found at the proposed nuclear waste repository site at Yucca Mountain originated – Las Vegas Sun

September 24, 2003 – DOE plans more Yucca answers – ROCKVILLE, Md. -- The Energy Department will have more answers to unresolved scientific questions surrounding Yucca Mountain by the end of the month, department officials told the Nuclear Regulatory Commission Tuesday Las Vegas Sun

September 20, 2003 – Yucca Mountain lawsuits rescheduled – WASHINGTON – A federal court has set Jan. 14 as the new date for oral arguments in lawsuits challenging the Yucca Mountain Project, a Nevada official said Friday. The cases will be argued before three judges representing the U.S. Court of Appeals for the District of Columbia Circuit: David S. Tatel, who was appointed by President Clinton; Karen Henderson, seated by the first President George Bush, and Harry Edwards, an appointee of President Carter. It is not yet clear how much time the judges will allocate to each of the four major lawsuits from the state, Clark County and the city of Las Vegas, according to Bob Loux, head of the state's Agency for Nuclear Projects –By STEVE TETREAULT STEPHENS WASHINGTON BUREAU

September 12, 2003 – Administration objects to possible Yucca Mountain delay – WASHINGTON – The Yucca Mountain project will be delayed and transportation plans compromised should a pending budget cut in the Senate go through, the White House told the Senate Thursday – Las Vegas Sun

September 09, 2003 – Yucca Mountain status report scheduled – Gibbons only representative allowed to speak – WASHINGTON -- A House of Representatives panel will receive a status report Thursday on the Yucca Mountain Project and discuss how supporters in Congress might move the program forward – STEPHENS WASHINGTON BUREAU

September 08, 2003 – British hydrologists enlisted in battle against nuke dump – A trio of British hydrologists spent last week in Las Vegas doing research for Nevada's scientific team in its battle against a high-level nuclear waste repository at Yucca Mountain . . . No other prospective nuclear waste burial site in world attempts to create a repository "in such a thermodynamically unstable environment," Thorne said, adding that questions persist about the adequacy of previous studies at the mountain. Both volcanoes and earthquakes have occurred around Yucca Mountain in the past – Las Vegas Sun

September 05, 2003 – State lawmakers ready for fiscal push in capital – WASHINGTON – Congress' summer recess has ended and Nevada's lawmakers have returned to Washington to continue work on a variety of legislative priorities before adjourning for the year – Las Vegas Sun

September 05, 2003 – Reid plans to hold up NRC selection – WASHINGTON -- Sen. Harry Reid, D-Nev., will place a hold on President Bush's pick for a seat on the five-member Nuclear Regulatory Commission after the White House rejected his science adviser for another spot on the panel – Las Vegas Sun

September 04, 2003 – Critic accuses DOE of using 'junk science' -- Toxicity levels of radioactive waste at issue– WASHINGTON -- The Energy Department is using "junk science" in its bid to reclassify thousands of gallons of highly radioactive nuclear waste and avoid the expense of reprocessing the material for disposal, an environmental leader said Wednesday. The DOE has misrepresented the toxicity of liquids and sludge that would be left over after giant storage tanks are drained at nuclear reservations in Washington, Idaho and South Carolina, said Thomas Cochran, nuclear program leader at the Natural Resources Defense Council – STEPHENS WASHINGTON BUREAU

September 02, 2003 – NUCLEAR WASTE REPOSITORY: Yucca Mountain already having effect on tribes – Like a giant snake slithering westward, Yucca Mountain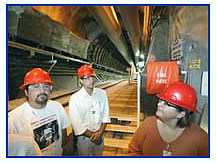 zigzags for nearly 20 miles across the remote terrain of southern Nye County. On one side, a band of white rock separates its belly from its back, midway to the top of its 5,000-foot crest. It is alive and moving in American Indian lore –Las Vegas Review Journal


October

October 31, 2003 – Nuclear waste opposition still strong – A poll commissioned by the state shows 65 percent of Nevadans still want to fight the proposed Yucca Mountain nuclear waste repository, while 30 percent believe the state should deal with the federal government for benefits in exchange for letting the project go forward – Las Vegas Review Journal

October 28, 2003 – Conflict could further delay Yucca work – WASHINGTON -- An appeals court ruling today could delay the Energy Department's plan to open a high-level nuclear waste dump at Yucca Mountain because of conflict of interest charges leveled at the law firm that worked on the department's permit application – Las Vegas Sun

October 24, 2003 – Official doubts 2010 opening for nuclear waste dump – WASHINGTON -- A nuclear regulator said Thursday the opening of a Nevada nuclear waste repository is likely to be delayed by five years or more by lengthy government reviews and potential uncertainties about the project's design. "It's almost a fact" that the Energy Department will not be burying nuclear waste at Yucca Mountain by 2010 as planned, said Edward McGaffigan, a member of the Nuclear Regulatory Commission – Stephens Washington Bureau

October 24, 2003 – Editorial: Fatal flaws not halting Yucca push – Las Vegas Sun

October 24, 2003 – '60 Minutes' tackles Yucca Mountain issue – Las Vegas Sun (More Coverage from CBS)

October 23, 2003 – Scientists calculate collapse of tunnels – 215 questions remain about Yucca Mountain –WASHINGTON -- Scientists are struggling to project how a Yucca Mountain repository might contain stored nuclear materials when portions of its underground tunnel network begin to collapse. The matter is one of 215 questions remaining to be answered a year before the Department of Energy plans to file a license application to build nuclear waste storage into Yucca Mountain – STEPHENS WASHINGTON BUREAU

October 22, 2003 – Science panel questions safety of Yucca nuclear waste containers – Las VEGAS - A scientific advisory panel's warning about metal casks corroding at high temperatures and releasing radioactivity will not slow plans to build a national nuclear waste dump in the Nevada desert, the Energy Department said Wednesday – AP

October 21, 2003 – Flaw Is Found in Plan to Bury Nuclear Waste – ASHINGTON, Oct. 20 — The Energy Department's design for burying nuclear waste at Yucca Mountain, near Las Vegas, would cause corrosion that would perforate the waste containers and allow leaks, an expert panel is preparing to advise the department –New York Times

October 20, 2003 – Yucca ads anger Reid – WASHINGTON -- The Energy Department's ads offering free Yucca Mountain tours to the public counters what officials have told Sen. Harry Reid, D-Nev., in the past– Las Vegas Sun

October 17, 2003 – Ohio waste is too hot for Utah, scholar says – Waste from an Ohio Superfund cleanup is so dangerous Congress has no business dispatching it to a Tooele County radioactive waste landfill, says a former policy advis er to the U.S. Energy secretary. "This is not your garden variety of low-level waste," said Robert Alvarez, senior policy advis er to three Energy secretaries during the Clinton administration. "This is nasty stuff." . . . Sending the waste to the Nevada Test Site would mean roughly 3,000 truckloads traveling part of the way on two-lane roads -- roughly 12 shipments a day for more than a year of workdays. Hauling it to Envirocare would involve just 17 trips, with strings of 60-odd flatbed railroad cars, over as little as eight months – The Salt Lake Tribune

October 17, 2003 &ndash Wilderness hearing focuses on Goshute N-dump – WASHINGTON -- A congressional hearing Thursday on a bill to create a new federal wilderness in Utah's western desert focused instead on whether the Goshute Indian Tribe should host a high-level nuclear waste dump in the barren Great Basin – The Salt Lake Tribune

October 15, 2003 – YUCCA ROUTES: Three rural counties mull pact – AG spokesman says DOE proposal attempts to bypass state's authority – In a move that has caught state and local officials off guard, three rural Nevada counties and the city of Caliente are considering forming a new regional agency to coordinate transportation of nuclear waste to the planned Yucca Mountain repository – Las Vegas Review Journal


October 09, 2003 – Yucca critics cite foul-up with reactor shipment – WASHINGTON -- The lack of communication involved in a radioactive waste shipment this week illustrates safety concerns for the proposed Yucca Mountain federal nuclear waste storage site, project critics said Wednesday –Las Vegas Sun

October 08, 2003 – DOE, Congress still locked in fight on naming nuke waste – WASHINGTON -- The Energy Department will continue to push Congress for authority to reclassify radioactive waste despite a move made by lawmakers last week to prevent that –Las Vegas Sun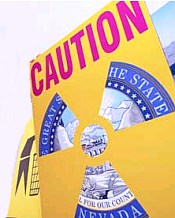 October 04, 2003 – UCLA exhibit to feature Yucca Mountain warning signs – Plans for nuclear waste dump led to traveling show of artworks –Fanning through poster-sized artworks, Joshua Abbey pulled out a black-and-white image of a human skull with a radiation warning symbol carved through the hollow cranium. Next, a pictograph depicting a human contaminated by radiation as a drill digs up a buried image of the same universal symbol. "If you drill, you die," Abbey, the director of the nonprofit Desert Space Foundation, said of the second work, by art student Maho Kishi. "That's the legacy we're leaving for future generations to contend with." – Las Vegas Review Journal

October 04, 2003 – Deal opens door for Reid aide to get NRC nomination – WASHINGTON -- Sen. Harry Reid and the Bush administration completed a deal Friday that clears the way for dozens of Bush nominees to take office in exchange for a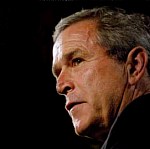 Reid aide being nominated to the Nuclear Regulatory Commission, the senator's aides said. The agreement breaks a monthlong impasse that was creating a growing backlog of executive branch nominees stalled for confirmation to homeland security, Justice Department and overseas posts, congressional officials said. In return, Reid, D-Nev., is positioned to place an associate, Gregory Jaczko, on the NRC for a five-year term that could carry through the nuclear agency's deliberations over a nuclear waste repository at Yucca Mountain – Las Vegas Review Journal

October 02, 2003 House to vote on nuclear waste reclassification – WASHINGTON -- The House could vote today to urge lawmakers working on the pending energy bill not to include a new federal definition of "high level radioactive waste" sought by the Energy Department . . . Rep. Jay Inslee, D-Wash., is fighting that effort through a "motion to instruct conferees" to exclude the Energy Department proposal from the final bill . . . Rep. Shelley Berkley, D-Nev., said she would support [Inslee] effort . . ""As the people of Nevada know all too well, whenever DOE runs into an obstacle, it tries to change the rules of the game," Berkley said. "DOE must learn to live within the law, and I will oppose any effort to allow them the authority to reclassify this nuclear waste." Gov. Kenny Guinn sent a letter to Berkley, Sen. Harry Reid, D-Nev., and Sen. John Ensign, R-Nev., saying he [also] supported Inslee's efforts – Las Vegas Sun

October 01, 2003 – Yucca backers lobby Congress on funds – WASHINGTON -- Yucca Mountain supporters canvassed Capitol Hill Tuesday urging lawmakers to support the $765 million slated to go toward the project, saying anything less will wind up costing everyone more money. – The coalition's push does not sit well with Nevada's congressional delegation –Las Vegas Sun

October 01, 2003 – Efforts to redefine nuke waste criticized – WASHINGTON -- Key senators are balking at an Energy Department proposal that would allow the agency to reclassify nuclear waste in some cases -- a move that would allow the agency to avoid sending some material to Yucca Mountain. The department wants to reclassify the waste so it can either leave it in place or send it to low-level waste sites.– NEW YORK TIMES NEWS SERVICE

November

November 25, 2003 – Nevadans raise safety, security concerns about Yucca Mountain – LAS VEGAS - Nevada officials accused the Department of Energy on Tuesday of shielding documents that reveal "dramatic" safety and security concerns about a proposed nuclear waste dump at Yucca Mountain – AP ( Related Story )

November 23, 2003



Waste issue: Disconnect stokes debates – Salt Lake Tribune

November 22, 2003 – Where I Stand -- Columnist Brian Greenspun: A reason to abstain - Las Vegas Sun

November 22, 2003 –Democrats: Bush broke promise on nuclear waste repository – CNN

November 21, 2003 – Volcano research could delay dump – The Nuclear Regulatory Commission is waiting for the Energy Department's results from new studies on potential radiation released from a theoretical volcano erupting through the proposed Yucca Mountain nuclear waste repository – Las Vegas Sun

November 20, 2003 – YUCCA MOUNTAIN: Crash concerns discussed – Nuclear waste advisory panel urged to take another look at Nellis, test site risks – Energy Department officials said Wednesday calculations of aircraft hazards need to be revised at the planned Yucca Mountain nuclear waste repository based on increased military flights over Nellis Air Force Range and the Nevada Test Site – Las Vegas Review Journal

November 18, 2003 – Energy bill includes $580 million for Yucca Mountain – WASHINGTON -- The energy and water spending bill expected to be approved by the House today includes a $580 million budget for the Yucca Mountain nuclear waste storage project and almost $200 million for other projects in Nevada – Las Vegas Sun

November 17, 2003 – Last-minute glitches in Yucca nuclear-waste burial plan – New findings could scuttle idea for underground site – San Francisco Chronicle

November 15, 2003 – NUCLEAR WASTE: Lawmakers target law firm – WASHINGTON -- Nevada's lawmakers on Friday continued their pursuit of a law firm accused of a conflict of interest while working on the Yucca Mountain Project – Las Vegas Review Jouranal ( More Coverage – Las Vegas Sun )

November 14, 2003 –Germany pulls nuclear plant plug – BERLIN, — Germany began phasing out nuclear power Friday when a 32-year-old power plant was switched off forever, the first step toward a historic shift in the energy supply of Europe's biggest economy. Eighteen remaining plants are to be closed over the next two decades under an accord that bears the stamp of the environmentalist Greens Party, Chancellor Gerhard Schroeder's junior coalition partner – MSNBC

November 14, 2003 – NRC to review Yucca data during close-door meetings – Las Vegas Sun

November 13, 2003 – Yucca water rights denied - DOE expected to challenge engineer – State Engineer Hugh Ricci has denied the Energy Department permanent rights to 140 million gallons per year of groundwater that the agency sought to build and operate the planned Yucca Mountain nuclear waste repository. The denial is expected to be challenged by DOE attorneys because the water is vital to proceeding with the project. That challenge, however, won't come until other Yucca Mountain issues raised by Nevada are decided by a federal appeals court in Washington, D.C. – Las Vegas Review Journal ( More Coverage - Nevada Appeal )

November 11, 2003 – Abraham confident department will make Yucca deadline – WASHINGTON -- The Energy Department is confident it will meet its December 2004 deadline to submit an application for the Yucca Mountain nuclear waste storage site to the Nuclear Regulatory Commission, Energy Secretary Spencer Abraham said Monday – Las Vegas Sun

November 10, 2003 – Study cites natural deposits in Yucca Mountain as barrier – But repository opponents counter absorbent zeolites won't outlast decaying nuclear waste – The same stuff in kitty litter that absorbs the ammonia smell of cat urine might serve as a natural safety net to trap some toxic remnants of nuclear waste should they escape from the planned Yucca Mountain repository – Las Vegas Review Journal ( More Coverage - LVS )

November 09, 2003 – N-waste fate maybe sealed by Utah – Salt Lake Tribune

November 06, 2003 – Plan to send nuclear waste around Cape Horn hits roadblock in Washington – AP

November 05, 2003 – Lawmakers earmark $580 million for Yucca – WASHINGTON -- Senate and House negotiators agreed to give the Yucca Mountain dump $580 million next year, an increase of $120 million from the current fiscal year. The bulk of the money -- $525 million -- will go toward preparing the Nuclear Regulatory Commission licensing application for the repository, 90 miles northwest of Las Vegas – Las Vegas Sun (



More Coverage Las Vegas Review Journal )

November 04, 2003 – Air Force wary of Yucca's impact – Officials say training would be affected by dump – WASHINGTON -- Air Force officials are making a new push to warn congressional leaders that the Yucca Mountain nuclear waste repository could hurt training and endanger sensitive operations - Las Vegas Sun

November 01, 2003 – YUCCA MOUNTAIN: DOE denies corrosion allegations – Panel finds fault with canister design – WASHINGTON -- The Energy Department is disputing an independent science panel's findings [ Nuclear Waste Technical Review Board ] that the DOE's preferred design for a Nevada nuclear waste repository would cause canisters of spent nuclear fuel to corrode and leak radioactive particles . . . the review board plans to release a 20- to 30-page technical report in a few weeks that will provide backup for its conclusions. – STEPHENS WASHINGTON BUREAU

November 01, 2003 – Yucca funding push revived – Two Illinois lawmakers introduce bill to ease access to money – WASHINGTON -- Supporters of the Yucca Mountain Project began a new bid Friday to speed up funding for the proposed Nevada nuclear waste repository. Two Illinois congressmen introduced a bill that would allow lawmakers to set aside at least $725 million each year for the repository program without having the money count against congressional spending limits – STEPHENS WASHINGTON BUREAU

December

December 31, 2003 – Nuclear waste official quits – WASHINGTON -- Michael Corradini, chairman of the Nuclear Waste Technical Review Board, sent a letter of resignation to the White House on Tuesday, telling President Bush that constant inquiries into his possible conflict of interest have taken away from the board's role in overseeing the Yucca Mountain Project.

December 29, 2003 – DOE seeks to lock up BLM land – Limits proposed along Yucca rail route – WASHINGTON -- The Energy Department wants more than 300,000 acres of public land to be removed from drilling or mining for 20 years as it prepares to build a rail line to the Yucca Mountain nuclear waste storage site – Las Vegas Sun ( More Coverage – Las Vegas Review Journal

December 29, 2003 – NOTICES Radioactive waste: Caliente rail corridor selected as preferred corridor for Yucca Mountain, NV, geologic repository, 74951-74952 [03-32029]– Federal Register

December 23, 2003



Yucca Mountain Project Office Identifies Caliente as Preferred Corridor For Construction of Rail Line to Serve Repository Las Vegas – The U.S. Department of Energy's Office of Civilian Radioactive Waste Management announced today that the program has identified the Caliente rail corridor as its preference for construction of a rail line to serve the Yucca Mountain Repository in Nevada. At this time, the Department also has identified Carlin as the secondary preferred corridor – Read DOE Press Release (725KB) – Includes Statewide Rail Corridor Map

December 19, 2003 – State officials prepare for big Yucca hearing – WASHINGTON -- Nevada officials want three federal agencies to justify actions they feel violated federal nuclear waste law, overruled scientific evidence and unconstitutionally pitted 49 states against one, all in the name of building a nuclear waste storage site at Yucca Mountain – Las Vegas Sun

December 15, 2003 – Yucca case returning to U.S. District Court – WASHINGTON -- The Justice Department does not plan on asking the U.S. Court of Appeals to rehear a conflict-of-interest case brought against the Energy Department over a Yucca Mountain project contract – Las Vegas Sun

December 13, 2003 – DOE to speed work on Yucca questions – Most research to be provided to federal regulators by August –WASHINGTON -- The Energy Department plans to speed its work to respond to key technical questions that regulators have raised about the Yucca Mountain nuclear waste repository. DOE planners submitted a revised schedule on Nov. 18 to provide the Nuclear Regulatory Commission with added research and answers on 134 outstanding issues, such as whether waste containers will work and how the repository might be affected by earthquakes and volcanic eruptions. The new schedule envisions DOE handing over its research on all but one item by August, four months before the department anticipates filing a repository application with the NRC – By STEVE TETREAULT, STEPHENS WASHINGTON BUREAU

December 10, 2003 – Nevada, DOE fighting over funding for nuclear dump plan oversight – LAS VEGAS - Nevada threatened more lawsuits Wednesday against the Energy Department unless it ensures funding for state and local oversight of a proposed national nuclear waste dump in the desert near Las Vegas – AP

December 10, 2003 – Top Yucca experts to discuss license application process – WASHINGTON -- Nevada's top Yucca Mountain experts will gather in Virginia during the next three days to discuss technical elements of the project and the upcoming license application process – Las Vegas Sun

December 10, 2003 – NRC working on system to allow public access to licensing documents – The Nuclear Regulatory Commission is working on an electronic computer system to allow the public access to millions of documents relating to licensing of a proposed high-level nuclear waste repository at Yucca Mountain – Las Vegas Sun

December 06, 2003 – NRC schedules closed sessions – The Nuclear Regulatory Commission has scheduled a second set of closed-door sessions on the Yucca Mountain Project, prompting Nevada's attorney general to file a complaint charging secrecy in the nuclear waste program. NRC staff members are scheduled to meet Monday through Friday in Las Vegas with counterparts from the Department of Energy to evaluate plans for the proposed spent fuel repository, according to an NRC memo STEPHENS WASHINGTON BUREAU

December 05, 2003 – NRC advisory panel to meet on Licensing Support Network for Yucca Mountain repository – WASHINGTON (12/05/03) -- A Nuclear Regulatory Commission (NRC) advisory review panel will meet Tuesday, December 9, in Las Vegas, Nevada, to discuss several issues involving the Internet-based "Licensing Support Network," which will contain information related to a potential hearing on a high-level radioactive waste repository at Yucca Mountain, Nevada. Members of the public are invited to observe the meeting and will be invited to offer their comments at appropriate times – Capitol Reports

December 04, 2003 – Security focus of study – Panel to report to Congress on risks in storing nuclear waste at plants – WASHINGTON -- Congress is directing experts to take a fresh look at whether radioactive nuclear waste stored at commercial power plants could be vulnerable to terrorist attacks. The National Academy of Sciences is forming a 10-member panel for a six-month study requested by the leaders of House homeland security and energy subcommittees – By STEVE TETREAULT STEPHENS WASHINGTON BUREAU

December 01, 2003 – Bush Signs Energy Appropriations Bill – WASHINGTON - President Bush on Monday signed a $27.3 billion energy and water bill that gave him less than he wanted for research on low-intensity nuclear weapons. The bill, however, gave Bush most of what he sought for early work on a long-delayed nuclear waste repository at Yucca Mountain, Nev. AP