"Fix Yucca" Legislation Aims to Speed Repository Project
Separate Interim Storage Bill Pending
The Bush Administration unveiled its plan for the Yucca Mountain in April with legislation that would speed up the licensing process and other components of the repository project. The "Nuclear Fuel Management and Disposal Act" seeks to strengthen the Department of Energy's authority over planning for the repository while at the same time expediting hearings that will be held by the Nuclear Regulatory Commission (NRC) to license the facility. The bill is currently stalled in the Senate committee on energy and natural resources.

According to supporters of the "fix Yucca" bill, the legislation is aimed at getting the repository project back on track after a series of setbacks and delays. "Our proposal seeks to provide stability, clarity, and predictability in moving the Yucca Mountain Project forward as quickly as possible," said Energy Department deputy secretary Clay Sell. "We believe it is very important to get Yucca Mountain open so we can start moving waste from communities around the country, and it is our view that is a widely held position," Sell said. "We can make the case to get the legislation passed."
Key Provisions of the 2006 Nuclear Fuel Management and Disposal Act
If passed, the Nuclear Fuel Management and Disposal Act would
Eliminate the existing 70,000 metric ton cap on Yucca Mountain's storage capacity. The bill would raise thecap to 120,000 metric tons.
Permanently withdraw from public use the 147,000 acres of land surrounding the Yucca Mountain site.
Guarantee that money in the Nuclear Waste Fund, which is paid for by consumers of nuclear energy, would be used solely for the Yucca Mountain Project.
Give the federal government authority to pre-empt state transportation laws.
The bill contains many provisions sought by proponents of the Yucca Mountain Project such as the nuclear power industry. For example, the bill seeks to change the limit on the capacity of the repository. Under current law, the amount of waste stored at the proposed facility cannot exceed 70,000 metric tons. If passed, the bill would raise the legal capacity of the repository to 120,000 metric tons of nuclear waste.

Energy Secretary Samuel Bodman explained the need to change the 70,000 ton limit in a letter to Congress that accompanied the bill. "Repeal of the limit would postpone indefinitely the need for the department to begin a second repository siting and development effort," he said. With nearly 55,000 tons of spent fuel currently being stored onsite in nuclear power plants, it is possible that additional waste repositories would be needed in the foreseeable future if the limit on Yucca Mountain is not lifted.

The bill would also authorize DOE to begin building a rail line to transport nuclear waste before the agency obtains a license from the NRC to build the repository. However, despite numerous provisions that could speed up the project, the bill does not address key elements that may be necessary to move the project along.

The bill does not authorize temporary storage for nuclear waste while the repository is being built (see section below for more information). It also fails to address the issue of nuclear waste recycling, a favorite issue of Senator Pete Domenici (R-New Mexico). Domenici is chairman of the Senate committee on energy and natural resources, where the bill is currently stalled.

Energy Secretary Samuel Bodman talked about the bill during his tour of the Yucca Mountain facility in April. "The legislation will allow us to provide stability, provide clarity, as well as predictability to the Yucca Mountain Project," he said. Bodman also commented that the bill would "help lay a solid foundation for America's future energy security." Representative Joe Barton (R-Texas) indicted in July that the House may consider a similar bill during a lame duck session later this year.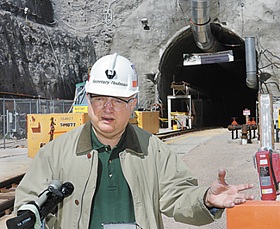 Energy Secretary Samuel Bodman commented on pending legislation following his tour of the Yucca Mountain facility in April.

Photo: Las Vegas Review-Journal



In order to address the failure of the Nuclear Fuel Management and Disposal Act to provide for interim storage of the nation's nuclear waste, a new provision has been crafted by Senators Domenici and Reid. Attached as a provision to the fiscal 2007 appropriations bill, the measure would provide $494 million to fund the Yucca Mountain Project. This amount includes $10 million for the development of interim storage facilities. The bill was approved in June by the Senate's appropriations subcommittee on energy and water development.

If the bill were to go into effect, individual states would be involved in selecting the sites for the interim storage facilities. The facilities would be licensed for 25 years and could open as soon as 2011 or 2012. States could also decide to keep the fuel onsite at nuclear power plants rather than build separate temporary storage facilities.

"States are going to find the best site within the state," said Domenici. "They may decide to leave it where it is." According to Senator Reid, the measure is "Yucca-neutral," and would allow time for the development of possible alternatives to the proposed repository. "This measure will give us time to study the problem of nuclear waste and work towards a solution that is safe and viable," Reid said. The measure has been approved by the Senate subcommittee but has yet to go to the full Senate.

Sources: Las Vegas Review-Journal, 4/05/06, 6/28/06; Deseret Morning News, 4/15/06; Las Vegas Sun, 6/23/06; Inside Energy, 4/4/06, 7/3/06, 7/18/06