Water Rights at Yucca Mountain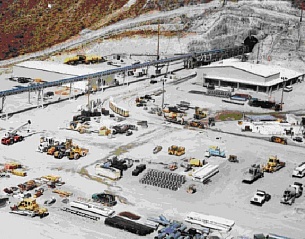 In a separate issue unrelated to the major Yucca Mountain lawsuits, the Energy Department (DOE) has filed suit against the State of Nevada over water rights at Yucca Mountain. DOE wants to pump 430 acre-feet of water from the Fortymile Canyon-Jackass Flat Groundwater Basin in Nye County to the Yucca Mountain site each year for construction and operation of the repository.

Following hearings, Nevada State Engineer Hugh Ricci denied DOE permanent water rights in November 2003, saying such water use would be detrimental to the public interest. (Read the decision

)

The Energy Department is expected to challenge the ruling, but it will have to wait until the federal appeals court in D.C. makes a decision on Nevada's Yucca Mountain lawsuits.

These are but the latest steps in a suit that has already been to the Court of Appeals and back.

DOE first applied for a permanent water permit in 2002, after Yucca Mountain was officially approved as the nation's site for a nuclear waste repository. Previously, the Energy Department had operated on temporary permits while the site was being studied.

However, former State Engineer Mike Turnipseed denied DOE's application for a permanent permit on the grounds that the Nevada Legislature had determined it was unlawful to store nuclear waste at Yucca Mountain. DOE appealed, and the 9th Circuit Court of Appeals reversed this ruling and ordered further hearings on the subject.

Meanwhile, current State Engineer Ricci refused to extend the temporary water permits to the government. DOE filed suit in a federal court, asking for immediate right to the water and arguing that federal law preempted state law.

In March 2003, U.S. District Judge Roger Hunt rejected DOE's arguments and denied the Department an immediate water permit. Hunt also delayed the lawsuit from going further, pending outcome of Nevada's Yucca Mountain lawsuits. However, the judge reversed Ricci's ruling, saying that the state engineer's office needed to hold more hearings on the subject before permanently denying DOE the water permit.

Accordingly, the state engineer's office held hearings August 20-22, 2003 in Carson City. Ricci denied DOE the permit in November 2003.

Nevada attorneys have agreed, however, to allow DOE temporary access to four water storage tanks at Yucca. The water is enough for restroom facilities and emergencies, but not for constructing the repository.



Back to Litigation