Local Government Fiscal Conditions
The Eureka County government provides a full range of services including police and volunteer fire protection, the construction and maintenance of sanitation, water and sewer (in town of Eureka only) facilities, recreational facilities including parks, swimming pool, museum, opera house, and fair and rodeo grounds, judicial services, economic development, medical facilities, road construction and maintenance, television services, Diamond Valley weed and rodent control, and senior citizen facilities. The unincorporated towns of Eureka and Crescent Valley are blended component units of the County government, and are reported in County financial statements as special revenue funds.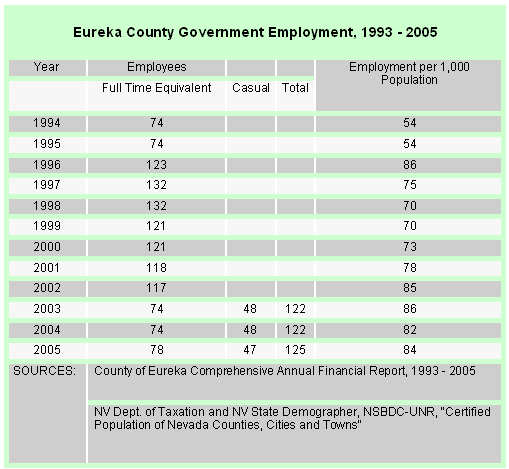 The County Auditor/Recorder prepares a Comprehensive Annual Financial Report at the end of each fiscal year; this report contains comprehensive information on County financial status, as well as other information required by Nevada statute. Most of the information in the following section is drawn from these reports from the years 1993 to 2005.

In 2005, principal officials of Eureka County consisted of a three-member Board of County Commissioners, an Auditor/Recorder, Clerk/Treasurer, Assessor, District Attorney, Sheriff, two Justices of the Peace, one in Beowawe Township (offices located in Crescent Valley) and one in Eureka, a Public Works Director, a Facilities Manager, two Senior center Coordinators, and an EMS Coordinator.

In 2005 Eureka County had 125 government employees. As the chart abovet shows, Eureka County's overall county government employment reached a high of 132 in 1997 and 1998, then fell subsequently. County employment in 2005, including casual labor, was 125 people.