E. Physical Features
Union Pacific operates dual trackage in Nevada where the UP's Overland (former Southern Pacific) and Central Corridor routes come together between Weso, east of Winnemucca, and Alazon, east of Elko (See Figure III-b) This section functions as a double track, with eastbound trains using one track and westbound the other. The lines are block signaled only for the direction of traffic, and reverse movements are rare. Although the lines are roughly parallel, the rights-of-way often diverge for several miles. The Central Corridor route is slightly shorter than the Overland Route through Nevada. (178.2 miles versus 183.0 miles). Crossovers to allow detour movements are located at points where the lines are in proximity.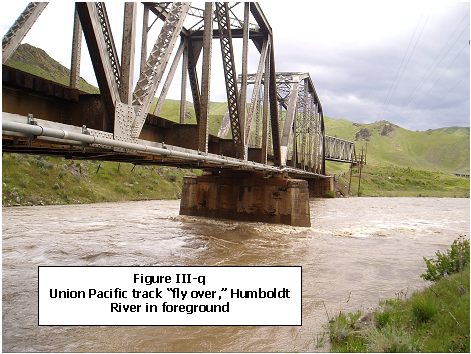 East of Weso, the Overland and Central Corridor follow the Humboldt River Valley. The Central Corridor route is initially on the north side of the river. The alignment ascends slightly, but overall the profile is very gentle. Valmy (ME 572.2) is the site of Sierra Pacific Power's North Valmy generating station, which receives coal shipments from Utah via the railroad. Just east of Barth (Ml 630.5), the Humboldt River flows through the narrow Palisade Canyon.

The two tracks are forced close together, and the two lines switch sides of the river. In the next 20 miles, the railroad passes through four short tunnels necessitated by the canyon walls. The curves in the canyon limit train speeds to 45 mph. The narrow canyon forces the Central Corridor line to fly over the Overland line (shown in Figure III-q, above) and the Central Corridor remains to the south of the Overland the rest of the way to Alazon.

Between Weso and Alazon, control is by automatic block signals (ABS). Trains receive warrants from the dispatcher to occupy track within the dual line limits. Passing sidings are located along the double track, but at greater spacing than on the single track because they are normally needed only for overtaking movements.

Two maps (Exhibit 2a and Exhibit 2b) show the general alignment of the track in relation to the surrounding area, as well as mileposts and approximate accident locations. Three critical features are circled on the above referenced maps. Photographs of two these features (Figures III-W and Figure III-X ). The three features shown in the photographs are:
The Dunphy interchange area where the dual railroad tracks, Interstate Highway 80 and the Humboldt River all come together (Figure III - W ).
The "flyover" east of Barth where one track crosses the other (Figure III - Q).
Railroad bridges at Palisade (Figure III - X).
The track profile drawings reproduced below show features of the two tracks in the study area. There are four profile drawings. The first two show western and eastern portions of the Central Corridor tracks through the study area and the second two show western and eastern portions of the Overland tracks. Along the top of the profile drawings there are depictions of the tracks showing sidings, places where the tracks cross, and the location of detection equipment. The line in the middle of the drawing shows the grade of the track and tunnels. Mileposts and station place names* are shown along the bottom of the drawings. Figure III-r shows symbols used in the drawings.
*(A station is a named location on the railroad. It might be no more than a sign, with no buildings or structures present.)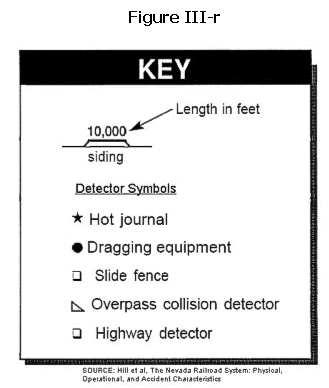 Figure III-s: Profiles of Union Pacific Central Corridor Route Through Eureka County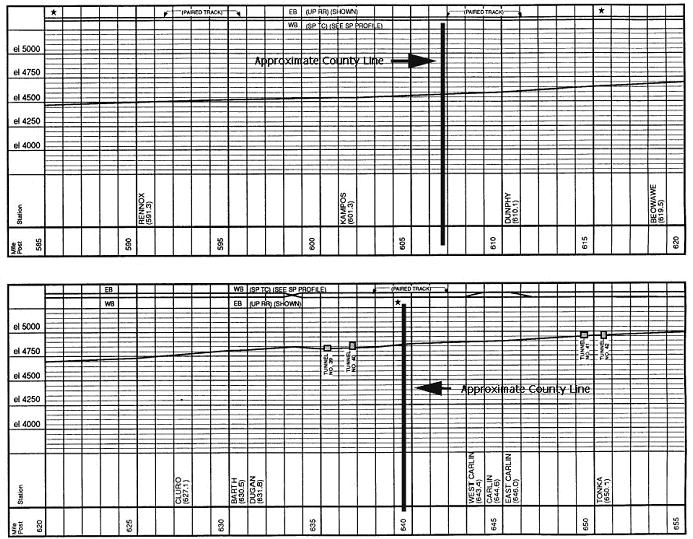 SOURCE, figures III- s and t: Hill, C.V., The Nevada Railroad System: Physical, Operational, and Accident Characteristics, September, 1991